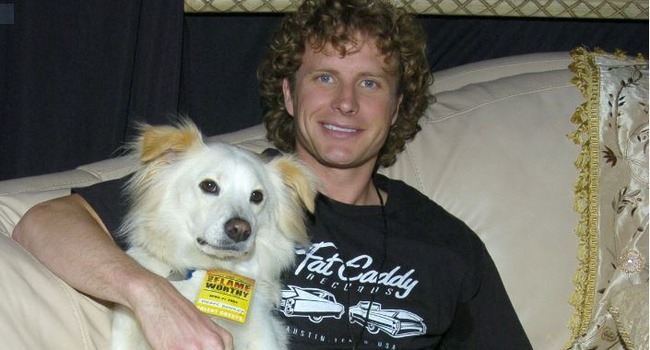 It was in a simple, poignant tweet that country star Dierks Bentley let fans know that his longtime best friend, Jake, a sweet-faced mixed breed he'd found at the pound, had passed away.
Jake has been along for Bentley's entire career, even gracing the cover of the musician's self-titled debut album alongside his owner. It was to be quite indicative of the dog's presence in Bentley's professional life over the next decade-plus.
Jake made appearances in Bentley's music videos for "What I Was Thinkin'," "Up on the Ridge" and "Feel That Fire," and attended shows and special events, as well. He even made the cut, inspiring lyrics in a newer track called "Can't Be Replaced."
For 15 years right by my side
From a single man to three kids and a wife
Friends come and go, but when it comes to Jake
There's just some things that can't be replaced
On Sunday, Bentley's fans were saddened to get the news that Jake, who had been ID's as a Spitz mix in the past, had passed. Many were aware the dog had been battling cancer over the past year.
Jake was 15 years old. Check out this recent Jake-centric video from Taste of Country, which aired when "Can't Be Replaced" debuted.
Everyone at LifeWithDogs.tv is sending love and support Bentley's way. We agree. The love of a dog is like no other love. And totally irreplaceable.