There is no point in even trying to understand the depravity behind a woman's decision to punish her son by putting his pet's life at risk: those of us who love dogs can't even begin to relate to such thinking.
*Update: Jewel is safe. The Lexus Project stepped in yesterday and took possession of Jewel. This picture from Facebook says it all.
Jewel is currently on the urgent list at the Brooklyn AC&C. Her listing explains that she is at risk of being put down, and that she was surrendered by a woman who wanted her son to pay more attention to his homework. From her listing:
My name is JEWEL. My Animal ID # is A0919786.
I am a female tan and white pit bull mix. The shelter thinks I am about 1 year 7 months old.
I came in the shelter as a OWNER SUR on 12/17/2011 from NY 11237, owner surrender reason stated was PERS PROB.
EUTH MEMO
No Euth Memo
MOST RECENT MEDICAL RATING, BEHAVIOR RATING & WEIGHT
01/21/2012 Exam Type CAGE EXAM – Medical Rating is 3 C – MAJOR CONDITIONS , Behavior Rating is AVERAGE, Weight 50.4 LBS.
Jay's owners surrendered Jewel because their child would not do his homework 🙁
12/28/2011 PET PROFILE MEMO
1: – Why are you surrendering this dog?The owner stated that the animal was for her son whom is not in compliance and not focused on school work.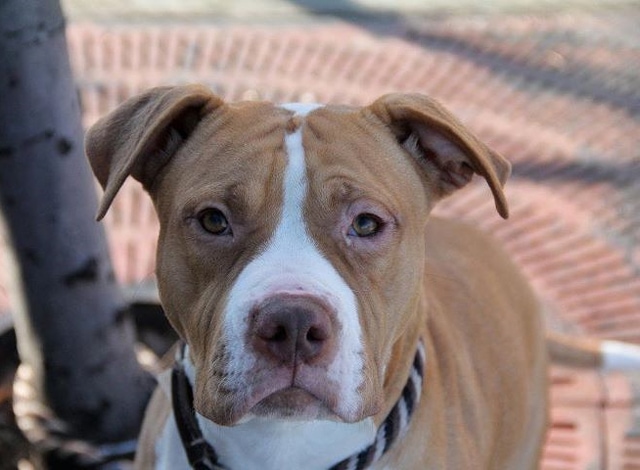 For obvious reasons, we would love to see this innocent dog find a home before it is too late.