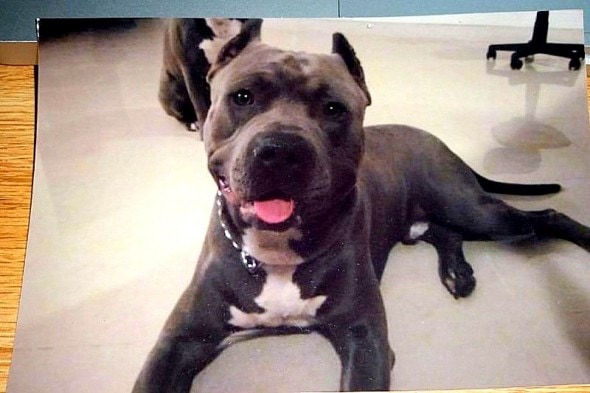 The following plea comes from dog lover & pit bull owner Chris Brunette:
Hey Everyone,
This page is for Cru, a 5-year-old American pit bull terrier, a loyal companion, and one of my absolute best friends. He has had a profound effect on my life, and that of others. I promise you, he is one of a kind.
I have known Cru since he was a mere 8 weeks old and watched him grow into an amazing dog who is now 5. He defies what society believes about "pit bulls" and is a true ambassador for the breed. He has changed the perceptions of hundreds, if not thousands of people in South Florida about this breed. He has no enemies in this world, only friends… but we need your help.
Recently, Cru was diagnosed with an aggressive type of cancer – and we're about to be at war with this terrible disease. As I sit here writing this I am tearing up, thinking about what may happen to my boy. But I know one thing is for certain – WE ARE GOING TO FIGHT. It is going to be an arduous battle – but with your help can give Cru a fighting chance.
After everything he has done for the breed, my friends, my family, and myself – this is the least I can do for him. We ask for your help in this war – in hopes that we can not only cure Cru, but canine cancer as a whole. This is bigger than any one dog.
You know, they say Superman wears Chuck Norris pajamas at night when he goes to bed. Did you know that when Chuck Norris goes to bed, he wears Cru pajamas? Cru Tough!
Thank you all for your help,
Cru, Chris, and everyone of Cru's family and friends (dogs and humans alike)
P.S. Anything raised that does not go towards Cru's treatment will go towards another dog fighting cancer or to a shelter in need of assistance.
If you would like to help Cru beat cancer, please CLICK HERE.