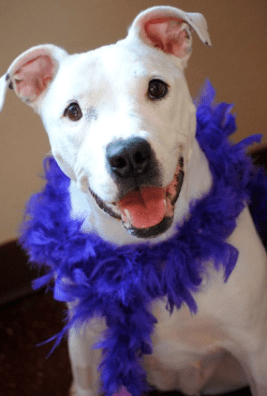 Jema is a 4 year old pit bull mix who happens to be deaf.  She arrived at 4 Luv of Dog Rescue (located in Fargo, North Dakota) nearly two years ago from a regional pound where she would otherwise have been euthanized because of her disability. Jema was at first a resident at the 4 Luv of Dog Rescue facility until a foster home was found for her.
Jema was in the first foster home for about a year and a half and then needed to be moved to a different foster due to a change in the household.   When Ashley, a foster with 4 Luv of Dog, heard that Jema needed a new foster, she talked it over with her significant other.  Not only do they have four dogs of their own (three large breed), but they had never interacted with a deaf dog, so it was a big decision to take on.  They decided that they would try it out as they would have to make sure she got along with their own dogs.
To back track a little, three months previous to Jema coming to live with Ashley and her partner, Jema had become very ill. She had developed auto-immune hemolytic anemia and had spent several nights at the vet and needed blood transfusions.  She made it through but was on a very high dosage of prednisone.   Prednisone can alter dogs' personalities and make them a little cranky. She was initially on 30 mg of prednisone (which is a very high dosage), and by the time she came to live with them, she was down to 10 mg a day.  She was definitely not herself (as they later came to find out) due to the medication.
Ashley worked a lot with Jema and taught her more hand signals. The first couple of weeks Ashley's dogs and her just ignored each other.  But then she and one of the female pit bulls started getting into scuffles.  At this point she was still on prednisone and it was very likely a combination of her being crabby from the prednisone, as well as them trying to sort out the new dynamics of the house.  They had to do some separating and rotating, re-introducing them and working with them as a pack on training.
After about 3 weeks of this, Jema was finally completely weaned of the prednisone.  And boy what a change that made!! It was a complete 180-shift in dynamics of the house.  She and two of the female pit bulls started playing with each other, snuggling, and getting along great! Ashley does a lot of temperament testing of new dogs in the Rescue, and has started using her as their "dog testing dog" because she is just that dog friendly!
Ashley describes the change that Jema has undergone in her time in their home:
"Her true personality has come out in full swing, and what a personality it is!  She is such a happy, snuggly, quirky girl!  She is super smart and extremely treat motivated so she picks up on things very quickly.  She has great attention and eye contact.  She is constantly watching us, waiting for cues/commands.  Having a deaf dog is really no different than having a hearing dog. It wasn't a difficult transition, as one may think.  She absolutely LOVES to play tug; rope toys are her favorite. She also likes to play fetch and chew on nylabones.  She is a good mix of activity and lazy- she doesn't ever miss an opportunity for a nap."
The one thing they are still working on with Jema is meeting new people.  Being deaf, she gets easily spooked and had a tendency to bark at new people.   They have been working on this diligently, from having people come over to Ashley's house and bringing her places where there are lots of people around.  She has come a long way from where she was originally.  She is now able to meet new people without the barking.  Occasionally she will still bark and jump up; but after correction she is perfectly fine.  She has even met new people with her tail wagging, and kisses!
Jema is such a sweet, friendly girl who has been waiting for her forever home for two years. She has worked hard and come such a long way; she deserves it!
Jema's adoption profile can be viewed by clicking here
————————————
4 Luv of Dog Rescue is a 100% volunteer run, non-profit organization in Fargo, North Dakota, dedicated to rescuing and rehoming dogs. The majority of their dogs are in foster homes, while a few reside in their facility.