by Brian Beker
For a dog rescuer, every life saved is a triumph. And every once in a while, something happens that reminds everyone just how meaningful their work is.
This is one such story. The stars are a handsome young dog and the humans who engineered a truly Great Escape for him and his six-member pack of death-row dogs.
We begin inside a harrowing Los Angeles kill shelter. With one of the largest discarded pet populations in America, it is filled beyond capacity with the unluckiest of animals. They are the abused and abandoned, the sick, the injured and the starving. Every dog is frightened in the anguished din of hundreds – sometimes thousands – of scared, confused animals.
Many of them never make it out for a walk, let alone make it out alive.
Not all of the shelters are kill shelters, but decimated budgets and the sheer weight of numbers mean that some still are. Shelter workers don't like having to put masses of animals down any more than anyone else, but that is their reality, day in and day out.
Los Angeles also has some of the most dedicated dog rescuers anywhere. It must feel like they're sweeping sand off a beach sometimes, but they fight relentlessly to save one life at a time.
Phyllis Smith-Vanboxtel Osh, of All Breed Dog Rescue, worked for the release of six dogs from the Devore Animal Shelter on May 9th. She and her colleague Kathrin Schmidt, who spend hours each day plotting escape routes for death-row dogs, arranged for them to be taken in by The Grace Foundation, a magnificent animal sanctuary in northern California. There, they will live on a huge ranch, be loved and taken care of, until they are adopted. If they are not adopted, then Grace will become their new home. They will never be discarded again.
What makes this rescue operation unusual is that the dogs were flown to freedom on a private plane, in an operation coordinated by an outfit called Pilots and Paws.
Santa Monica Airport, on the west side of Los Angeles, is famous for its billionaire traffic and celebrity aviators like Harrison Ford, Tony Bill, Angelina Jolie and Brad Pitt.
Working there without any pretensions to celebrity is pilot Zach Bryson.
Zach has a ways to go before he hits 30, and yet he's already a sea captain, a chef and a commercial pilot. With his earnings as a ferry captain, Zach bought an airplane so that he could develop an aviation career. If you're willing to turn the wrenches to keep it flying yourself, as Zach is, a 30-year-old airplane runs about as much as a nowhere-near-loaded Toyota. America's tarmacs are littered with them. Fuel prices have driven their value through the floor.
Combining forces with Phyllis and Kathrin, and dispatched by Paws and Pilots, Zach flies rescued animals to destinations within a few hundred miles of LA. He does it several times a week. The rescues are not only easy on the animals, they're economical. The cost for a trip like the one to Grace costs about $250 in donor-paid gas. Zach contributes the flying, the plane, his labor on it, all for nothing. That means about $30 per dog to transport them 300 miles. Can't beat it.
Back to last week's operation.
After being pulled out of a harrowing shelter, this pack of six dogs found themselves out on the open space of an airport, where they were introduced to Zach.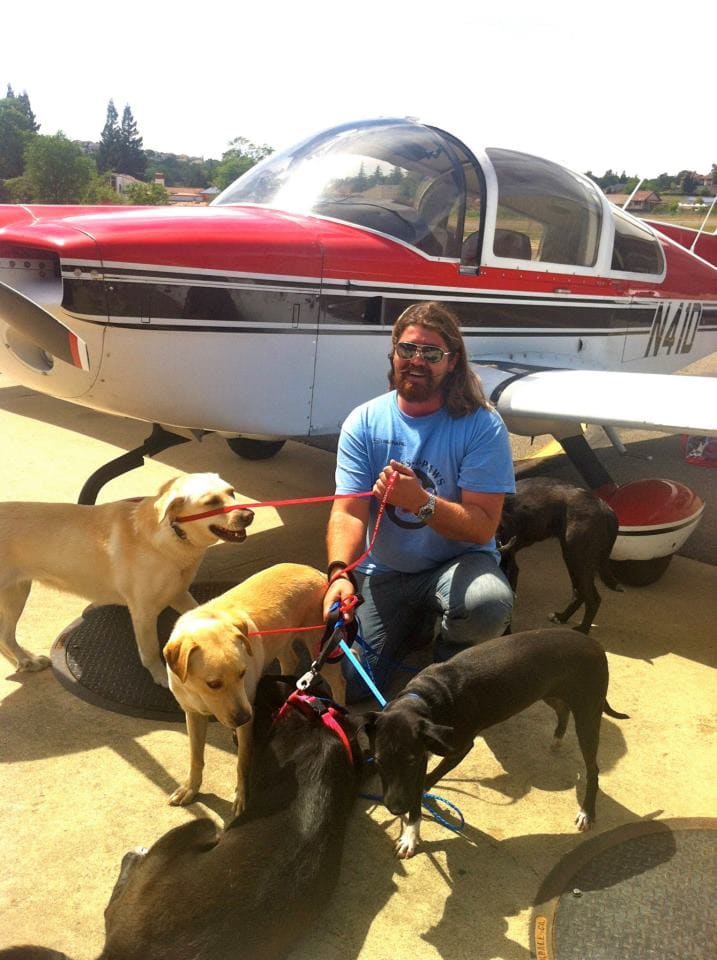 You don't do this kind of work if you don't love animals. Zach understands the need for his passengers to decompress. He makes them feel welcome right away.
Before loading them gently on the airplane, Zach makes sure everyone is walked, calm and ready before they go anywhere. Normally, the passengers lie down and go to sleep.
So far, so good, but then the magic happened.
One of the dogs was the curious type. He relished every minute. Imagine what it must have been like – sprung from a shelter cage, riding in the ground in the plane – like a remembered car ride, and which dog doesn't love going for a ride? Then leaving the ground, and flying up in the air.
Just as some small percentage of humans naturally love flying, this young boy was absorbed by the experience. He loved it. His brain, stifled in a cage, about to be put to sleep, was back in high gear. Ears up, forehead wrinkled, gaze fixed. He was experiencing life. And he was filled with gratitude, which made for a pretty good reward for a rescuer.
So much so that Zach accorded him the honor of flying left seat. It was a symbol of freedom, a sign of a return to that good dog of that sovereignty every animal deserves.
And, like everything with dogs, it was fun.
Okay, so maybe the headline is a bit of an exaggeration. The dog didn't really fly the airplane.
On the other hand, he certainly had an experience that changed his life forever. That handsome, curious, intelligent young boy, and all the other passengers flying with him, flew to a new life. Look at the picture at the beginning again – it's wonderful to see a sharp young dog get a new lease on life and take special pleasure out of every minute. That's some dog.
Without this rescue team, he would have been just another one of the dogs who die every day in American shelters, forgotten by now.
Who knows what it was like for him. Who knows what he thought or what he will remember. Who knows what he'll be seeing in his dreams.
One thing is for sure – it was one stunning rescue.
Hats off to Zach, Phyllis, Kathrin, The Grace Foundation, Pilots and Paws, and the donors who keep them flying, for giving those dogs, and all the others they help, the wings to fly them home.