Over this past Thanksgiving weekend, the Carson Animal Shelter, in South Los Angeles County, killed 18 pit bulls while the facility was closed to the public and to potential adopters. The nineteenth would have been Ona, a 5 month-old pit mix with the pointy ears of a German Shepherd. Ona was lucky: she was pulled by a rescuer the day before the long weekend. The puppy had found a new home, thanks to a Facebook page and website called "SwayLove," created by Josh Liddy.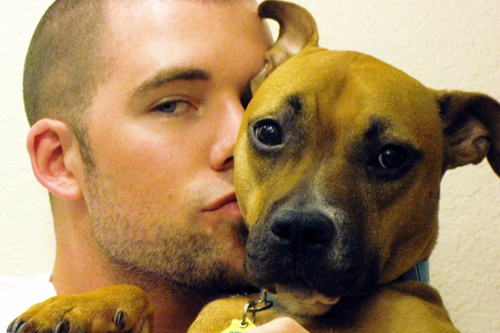 Several times a week, Josh takes a short drive from his house to the county-run animal shelter and spends some time with the imprisoned dogs. The majority of them will end up receiving a lethal injection — especially the pit bulls, who, saddled with an unfair and stereotyped reputation for inherently aggressive behavior, are less trusted by families looking to adopt a companion. Most pits who end up at the Carson shelter are killed within a week. Sometimes it's a dozen or more at a time. That's just one shelter in one city in America.
At the shelter, Josh takes pictures of every pit bull. When he gets home, he transfers the portraits to his computer, affixes adoption information to each picture, and uploads them to the Swaylove Facebook page. This way, Facebook users who are moved to share these sad and beautiful images with their friends also share the information a potential adopter would need to save each dog. This is how Josh uses his creative skills, coupled with online social networks, to save lives.
This work is Josh's life, and his purpose. It's his daily act of tribute to his own former companion, Sway, a rambunctious and loyal pit bull who Josh lost to an auto immune disease.
Christopher Sprinkle and I created this short video about Josh's work as the first episode of a new online series from Dog Park Media about animals and the people who love them, called 'Rescued.'
While we were at the pound, shooting the footage you see here, I met Ona. It was love at first sight. I wasn't planning to adopt a dog anytime soon, but it's hard to resist these amazing animals in such tragic and desperate circumstances. So after getting home and talking it over with my girlfriend, I put a note up on the Swaylove Facebook page. I heard back almost immediately from a rescuer, who took Ona off of death row that same day and arranged for me to pick her up and bring her to her new forever home. One more life saved because of Josh.
Ona is one of the lucky few at the Carson Animal Shelter, but because of Josh and his advocacy for pits at his local pound, it's a few more than it would have been. That makes every minute Josh spends at the shelter worthwhile. Sway's spirit lives on in Ona, and in every dog rescued because of Josh's work.
[dcs_head top="0″ color="#666666″] [/dcs_head]
About the RESCUED video series: RESCUED is an online micro-documentary video series about people who love animals so deeply that they devote their lives to rescuing and protecting them. The series is produced by Dog Park Media and run regularly on Life With Dogs and the Huffington Post. To stay updated on our RESCUED video series, please 'like' Dog Park Media's Facebook page and subscribe to our YouTube channel.