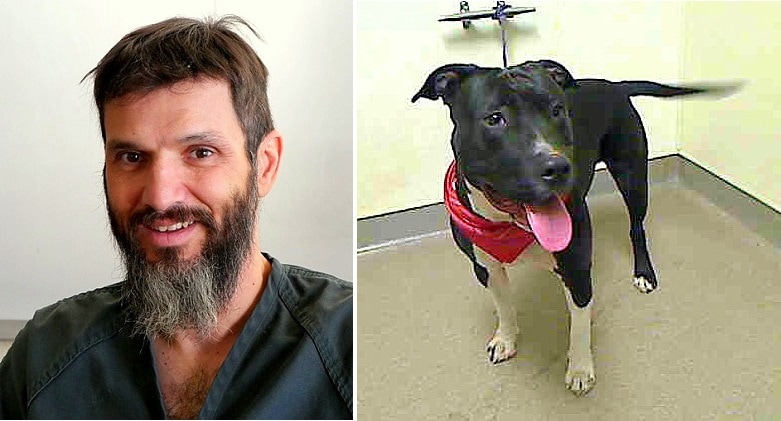 \
When Jeffrey Menendez, who is currently homeless, was arrested for setting an illegal campfire and then fighting with a police officer, his dog Bonnie was taken to an animal shelter.  She would possibly have been adopted or euthanized before Jeffrey was released, so deputies made sure that didn't happen.
Being homeless is always a struggle, but even more so in areas where the winters can be deadly.  Building a fire can be the only way to stay alive, but it's also illegal within the limits of many cities.  Jeffrey was sentenced to 30 days in jail for building a fire and then fighting with an officer over the incident.
He was heartbroken at the thought of Bonnie being euthanized when he learned he might not get out in time to save her.
"She was something for me to care for. Everywhere I went, she went with me," Jeffrey told Simon Crittle, a Denver Sheriff Department spokesman.
When deputies learned how distraught Menendez was over the situation, they knew they had to help.  They reached out to the Denver Animal Shelter where she was being kept and arranged for them to just board her until her owner could come pick her up.
Then they called New Hope Cattle Dogs Rescue of Colorado, who offered of cover the cost of Bonnie's stay.
"If they didn't do that, I wouldn't still have Bonnie. That kind of kindness is something you don't expect. I have never experienced it before," Jeffrey said.
Chris Spanos, husband of one of New Hope's founders, says this isn't the first time they've worked with deputies and inmates.  He said his family is blessed and feels obligated to help others get back on their feet, and understand how a dog can help a person do that.
"You know, if two or three more people do this for two or three more people, we wouldn't have so many problems," Spanos told the Denver Post.
Jeffrey is scheduled to be released within the next week, and is looking forward to seeing Bonnie again when he does.
"Everyone wants to pet her," he said.  "She's like a celebrity."
Crittle said this situation is an example of how the department's philosophy of deputies working with inmates can help them better understand their motivations and behaviors.
"If you can do a little thing to make their lives easier, ultimately that person is going to be a little easier to manage," he explained.
In an effort to help Jeffrey and Bonnie get off the freezing Denver streets and into a warm home this winter, I collaborated with Dave Bauer, director of Recycle Bicycles, a non-profit organization that collects donated bikes and gives them to people in need.  They just need to donate a few hours of their time working for the program in order to receive a bike, but Jeffrey volunteers all the time.
"He volunteers almost all his waking hours at Recycle Bicycles Collective as a bike mechanic.  He helps unload bike donations and helps fellow homeless folks fix up free bikes for themselves."
Jeffrey spends so much of his time helping others, and we're hoping others will be inspired to help both him and Bonnie.  Bauer has set up a fundraiser page to help them get a home.  If you would like to donate, please CLICK HERE.