A heinous human decided they no longer wanted their dog, so they pitched her over a highway guardrail into a swamp.  She had already gotten chomped by an alligator, and very likely would have been dinner had it not been for a police officer who spotted her and the firefighters who pulled her out.
Louisiana state trooper Darrell Thomas was making a routine traffic stop when he discovered the dog.
"I thought, at first, 'that can't be a dog,'" Thomas told the St. Charles Herald Guide.  "But I looked over the side (of the interstate) and sure enough, there she was. I made a couple of calls. The first thing that comes to mind is, 'who would throw a dog over the side of the interstate? Some people are evil."
He called for assistance, and officers arrived to find the female pit bull taking refuge on a tiny patch of marsh grass in the midst of the swamp 30 feet below Interstate 310.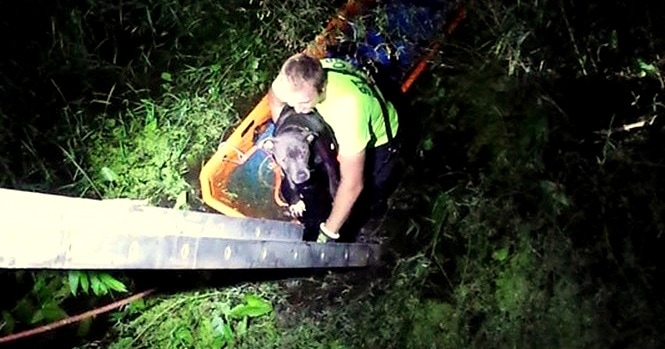 Firefighters were called in to hoist her out.  Volunteer firefighter Eddie Simpson descended a ladder and single-handedly carried the 75-pound dog up to dry land.
"She knew she was being rescued and she embraced it," said Angie Robert, the animal control supervisor of St. Charles' Parish. "She is the sweetest thing."
The dog, called Ally Gator, had puncture wounds that veterinarian Jena Troxler said are consistent with alligator bites.  She's thought to be between five and seven years of age.  She's suffering from a serious skin condition, which may be what led to her being pitched into the swamp in the first place.
"It's in the top five cases I've worked and I've been in the rescue business 15 to 20 years now," Robert stated.  "I didn't believe the call when it came."
Now she is recovering at the St. Charles Parish Animal Shelter.
"She's doing well, but she's still undergoing medical treatment," Robert said.  "At this point, she's still considered evidence as to the investigation. The important thing and, this is true of all of any injured dog we have, is she's staying here until she's 100 percent again.
[She] will absolutely not be given back to the owner until a full investigation has been had.  If there is an owner, I've got questions. Until we get the facts, the dog isn't going anywhere."
She may already be up for adoption, but no updates have been given by the shelter for the last two weeks.
"We're asking everyone to keep their eye out for (animal abuse)," Robert said. "We're happy to have (Ally Gator) and blessed to have her alive, but at the same time, so many animals are being dumped or hurt, and they need help, too. If you don't get her, hey, you can get someone else."
It was noted that she was found with a Florida Gators leash wrapped around her neck.  Anyone with information is asked to call the Sheriff's Office at 985-783-6807.