Ten-year-old twin sisters Tiana and Giana Johnson from Wayne, New Jersey, are both legally blind, and Giana is autistic. This Christmas, the girls didn't wish to get the latest dolls, video games or electronics, all they wanted was a dog, a disabled dog. Well, their wish came true a few days ago when they adopted Carmella, a pit bull with deformed front legs.
NBC 2 New York spoke with Dana Polito-Corry, the twins' mother, and she said her daughters had expressed wanting to own a dog they could identify with.
"I'm very different in school," Tiana said. "I'm the only one who walks with a cane, and I thought if I got a disabled dog, she would know the same feeling."
Polito-Corry didn't know where to find a disabled dog to make her daughters' wishes come true, but as she took the other family dogs to a pet grooming saloon and chatted with salon owner Sandy Roberto, the twins' Christmas wish went from hard-to get to completely attainable.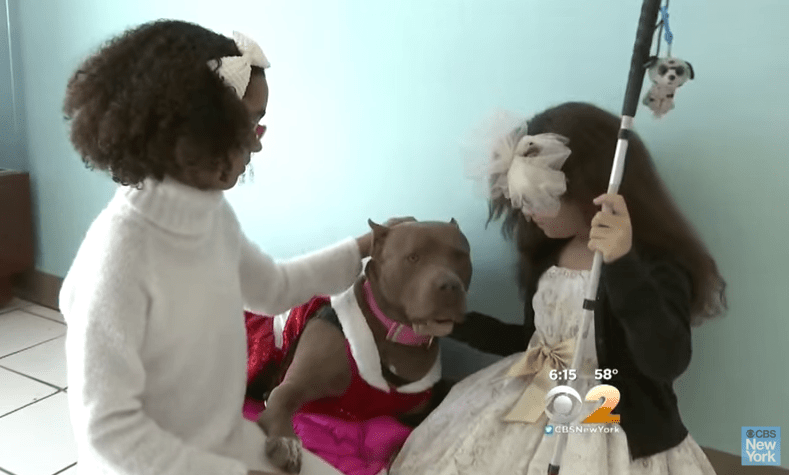 The mother said that as she talked about her daughter's wish, Carmella walked over to her and the wish was in front of eyes.
Carmella had been looking for her forever home for more than a year now and had been spending her days at the salon hoping to find her forever family, but due to her deformed legs no one wanted to adopt her. Roberto says the pit bull was kept in a crate too small for her size until she rescued the dog, and that's why the dog's legs buckle out.
After learning about the dog's tragic past Polito-Corry knew Carmela was the perfect dog for her daughters. Roberto couldn't have wished for a more perfect family for the disabled dog and was very happy to make this incredible adoption a reality.
For the twins, Carmella is the perfect dog. "Just because she is disabled, it doesn't mean she is any different from regular dog," said Giana. Not only can the girls relate to pet, but the dog has helped autistic Giana who barely spoke before, get confidence to express herself a lot more. The young girl can't stop talking about her amazing pet now.
As for Carmella, the former homeless dog who longed for a home of her own, her wish came true as well.