Arden Christensen is an avid dog lover, and knows for certain they are family members.  He has faced some very dark times, including a spinal injury and the unexpected loss of his son, and his dogs have been the ones to help him through them.  But new management in his duplex is evicting him and his eight dogs.  He refuses to abandon them, and is desperately pleading for a miracle.
He got Sasha as a puppy in 2005.  The next year his son tragically died due to an unknown heart condition.  After that he got Cornelious, a rat terrier, whom he says was "such a little terror, and not much for snuggling."  In 2007, he and his burgeoning family moved into the apartment.
Things were still very bad for Arden.  His son's death destroyed him, and he was drinking heavily.  Nearly two years to the day of the death, he was asked by a friend to foster a pit bull puppy.
"I really wasn't sure I wanted to take on another puppy," Arden said.  "He has been my constant companion since then."
Believing he was too young to have puppies, Arden hadn't gotten him fixed just yet, and one day walked in on him having his way with Sasha.
"Next day we took him to get snipped, but was too late," he explained.  "Our little runt Baby was born with a condition and could not digest his food. We took him to the vet and he said there was nothing he could do and he passed in his sleep two nights later."
Arden often gives up his bed so the doggies can sleep comfortably.
He tried to find good homes for the rest of the litter when they were old enough.  But sadly, he found out that two of them weren't being cared to by his standards, and a third was hit and killed by a car.  After that, he refused to part with the rest of them.
"Since then they have been my saviors. With keeping me going through those first years, to the last few when I found my girlfriend/fiancée was using again – she had been clean the 10 years we were together – and was cheating on me," Arden confided.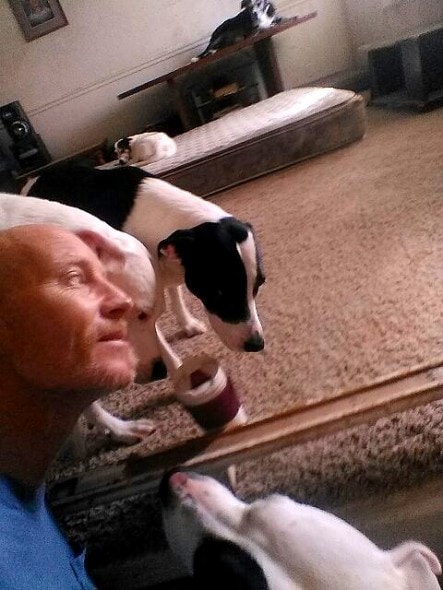 "I was in the process of my disability application from a spinal injury I received in 1993. While waiting for a hearing, and right after finding out about my girlfriend, I fell on some ice and ended up with my fourth neck surgery and second back surgery."
He finally received his disability approval in 2012, but as anyone who is granted disability will tell you, payments are minimal and barely cover the cost of basic housing and other necessities, let alone have enough to save for the cost of moving to a new place.
"I have been living alone with my eight wonderful angels since. I swore I would never abandon any of them, and would gladly give my life for them."
In January of this year, new management took over the property, and began inspecting all of the rentals in February.  In June Arden received a termination notice for July 31st with no reason stated.  He has been told that the building is not up to code and needs to be renovated, but as far as he knows, none of the other tenants have been forced to leave.  He has only until August 5th to find a new place that will accommodate eight dogs.
"I CANNOT lose my pack – they are my life," he said.
Arden's sister Julie has created a fundraiser to help.  Please, if you can spare anything, even a dollar, it would mean the world to this devastated family.  Please CLICK HERE to help.
Because grass would never grow, Arden laid down carpet for the dogs to romp around on.