After a long 14 months, Annie, a small mixed-breed, has found her way home.
"Of course, I seen something like this on TV, like on Animal Planet, but never have we had of this happen at Happy Hills," said Lisa Sparks, Happy Hills Animal Foundation in Staley, North Carolina.
Annie, originally from New York, was picked up along old highway US 421 in Liberty, North Carolina – 600 miles from home!
"Annie was picked-up in Liberty a few miles from here on Wednesday night by a local dentist," said Sparks.
"I advised him to bring her over and lets see if she had a microchip. And when we scanned her, she indeed had a microchip. That chip led them to her owner, Jessica Ortiz."
"Ms. Ortiz was almost shocked, she was crying on the telephone." Understandably so, Ortiz had not seen Annie since May 2011.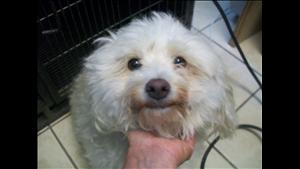 "Now, how she got from New York to Liberty and Staley, North Carolina. I have no idea. […] But a little dog like her walking, would be impossible."
Ortiz is ecstatic to have Annie home. Annie will be travelling once again on Friday from Happy Hills Animal Foundation back to her home in Queens, New York to be reunited with Ortiz.