An elderly Minnesota woman says she has her dog to thank for helping her survive a 20 hour nightmare.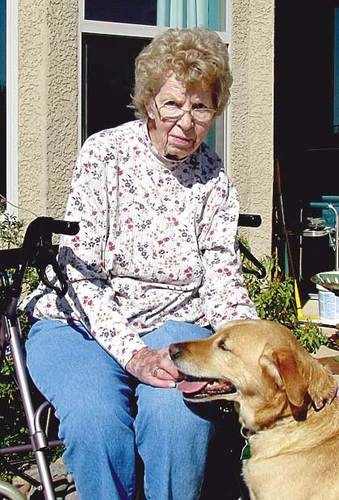 Erma Iverson took her dog, Crackers, for a walk on a late September day and found herself stranded when she bent over to pick up a few branches and fell. The 79-year old suffers from Parkinson's disease and wears a medical alert bracelet, and when she was unable to get up, she activated the device a number of times, but received no response. After quite some time she began to yell for help. There was no use: Erma and Crackers were well off the road when she fell, and there were no homes within earshot.
Night fell, and temperatures dropped into the mid-40's. Iverson was dressed well enough to make it through the night – if the wildlife didn't get her. Thanks to Crackers, that would not be an issue.
Iverson says that Crackers spent the night protecting her from unwanted visitors. When curious raccoons approached, the dog treed them. A deer and fawn stumbled upon her in the middle of the night before the dog scared them off.
And then the coyotes showed up. Iverson said she heard them start yipping when Crackers disappeared into the darkness, chasing them away before returning to keep watch over her.
She was found by a postal carrier the next day. One of her eyes were swollen shut, and she was badly bruised and cut from the fall. Iverson would spend the next nine days recovering in the hospital. Nurses told her a few more hours in the cold would have killed her.
She says she has her faithful companion Crackers to thank for helping her survive the ordeal, and she may very well be correct in that assessment: just days after her recovery, Iverson says someone reported seeing a cougar less than a mile from her home.