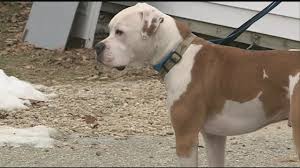 Cooper is a four-year-old bulldog that had gone missing from his family in Florida months ago.  No one seemed to be able to get a fix on where he was heading.  Now he has somehow shown up, no worse for the wear according to rescuers, in Salem, New Hampshire.  In case you were wondering, that's over 1,200 miles!
About a week ago, Cooper was seen by two women near the intersection of Millville and Lake Street.  Figuring Cooper was a local lost or missing dog, they took him to the police.
"He's in good condition, and they thought someone may give a call in a short period," said Animal Control Officer Corie Bliss.
The thing is, no one ever called about Cooper.  So like any other anonymous stray, Cooper wound up going to a local rescue group's shelter facilities.  When there he would reveal his true identity, and how far from home he really was.
While at the Salem Animal Rescue League, Cooper was scanned for a microchip and it was discovered that he indeed had one.
"I took him out and scanned him for a microchip, and that's when it all unfolded," Bliss said.
"Somebody called me and said he was in New Hampshire," said Cooper's owner, Julie Shields. "I said, 'You know I'm in Florida, right?' She said, 'Yeah, we know everything about you. We found this microchip on your dog.'"
Truth be told, most of Cooper's life is a mystery to everyone, even Julie.  She says that Cooper showed up at her door in Naples, Florida one day about a year and a half ago.  After putting up flyers and making numerous posts to the major social media outlets, no one came forward to claim him.
"I advertised him wherever I could think of — signs, Craigslist, that kind of stuff," said Julie. "Nobody ever claimed him."
So Cooper became a member of her family, and is very much loved.  She took him to a vet to be checked out medically, and have a microchip added, just in case something like this were to ever happen.  Apparently, this was a very good move, and has paid off in spades.
No one is sure on the what, why and how behind Cooper.  Where he started off as a pup, how he got to Julie, and why he made the long journey to New Hampshire.  All Julie knows is she's happy he's been found alive and well, and in good shape.  The pair will be reunited, and Cooper will be taken back home to Florida to be a member of the Shields family again.