Laura Williams is a massive dog lover, so when she saw a stray wandering around in her Raleigh, North Carolina neighborhood, she knew she had to act.
"He was looking all lethargic and out of it and not really too well," Laura told WBTW. "He let me put a collar and a leash on him, and he jumped into my car."
She brought the Rottweiler/German shepherd/Chow mix to a vet's office to be examined and scanned.  Aside from a case of fleas, he appeared to be in good health.  His microchip showed that his name was Zeus, and that he belonged to Melody and Ben Harworth.
"When I said, 'we found your dog Zeus' – because he was listed as lost — they said their dog was dead," Laura explained.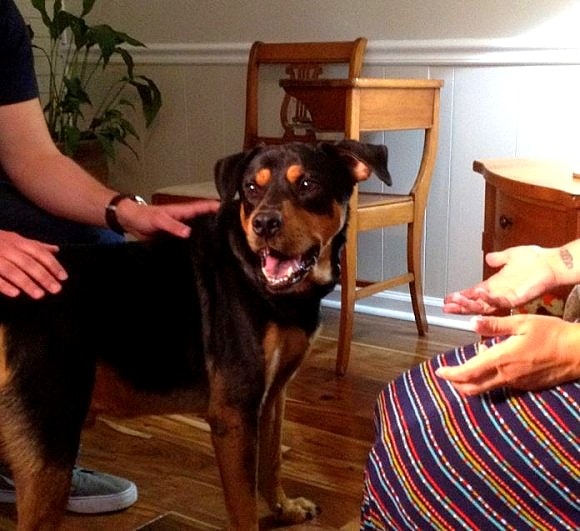 The Harworths are a military family, and now live in Washington state.  In 2012, they lived in Georgia with their teenage sons.  When they were reassigned to South Korea, Zeus had to stay behind.
"A family friend in North Carolina took care of him," Laura said.
But only a few months later, the friend told them that Zeus had died.
"We all got chills," Laura said of the phone call. "The girl from the vet got chills. I got goosebumps, and I almost started crying because for the past three years, they thought their dog was dead."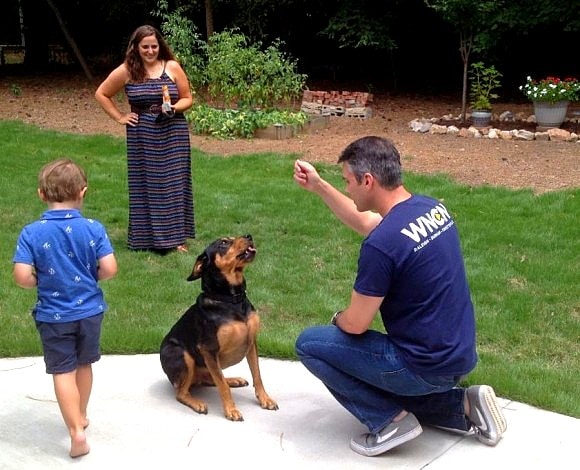 For now, Zeus is staying at Laura's father's house, enjoying the big backyard and friendship with her four-year-old nephew.
"We've been trying to figure out all week how to get him home.  He's just a super gentle, sweet dog, and we don't know where he's been the past few years."
What really happened?  Why did the friend lie about Zeus' death?  Did they tire of caring for him and just let him go?  There are many questions, but the important thing is that Zeus is alive and well.  The next step is getting him reunited with his family.
The news station arranged a Skype meeting.
"Zeusy!" Melody and her sons said excitedly.  "My husband is going to be so excited, he has no idea.  He's going to be coming home from training."
"I'm going to cry," Laura said. "This is great. I'm so excited."
Hoping to get him returned to his family, WNCN general manager and dog lover Doug Hamilton paid the vet bill to get him cleared to fly.  However, because Zeus has heartworms, he isn't able to fly for six months.  So now the station is working on how to have him driven across the country.
But after spending more than three years believing their boy was dead, the Harworths know they can wait a few more weeks.