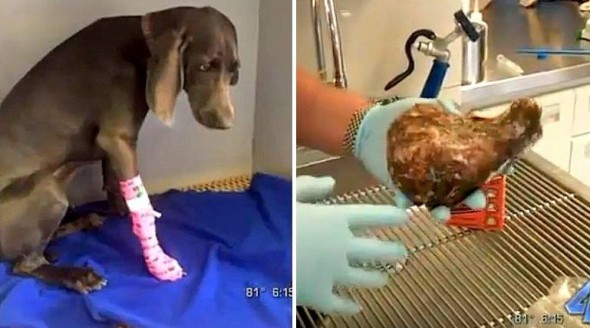 A six-month-old Weimaraner called Lake is one lucky dog.  After she swallowed an entire bottle of Gorilla Glue she dug out of her human's trash can, she needed surgery to remove the solid mass the glue formed in her tummy.  Thankfully, she's expected to make a full recovery.
"I didn't think anything of it," said Krystal Wilson, Lake's human.  "Until that night when she started vomiting."
Wilson quickly got herself on the internet and used Google to search "what happens when you swallow super glue?"  That didn't get her anywhere, so she knew that she had to do something else, and fast.  Lake was in bad shape.
Wilson then called Dr. Leonardo Baez of Midtown Vets in Oklahoma City.  He had Wilson bring the dog in straight away, and he could tell immediately upon seeing her that something wasn't right, and there was this weird mass could feel in her abdomen.
"I could feel a mass about the size of a grapefruit," said Baez.  "We were able to extract a perfect mold of her stomach.  Inside the mold, there were bits of the bottle and grass."
According to the doctor, within a few hours after the surgery, Lake started to seem like her old self again.  He expects that she will make a full recovery, and most likely will think twice before making a snack out of something she found in the trash.  Or at least that what her humans hope.