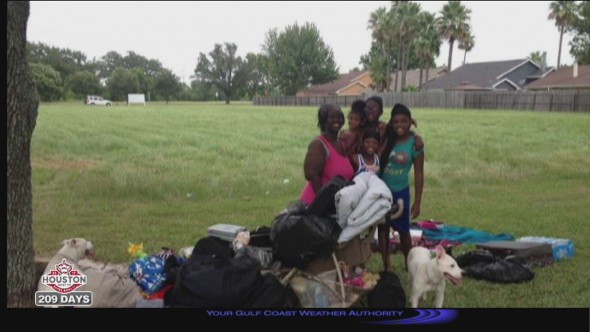 ………………………………………………………………………………………………………………………………………………………………….
It can be easy for some people to look past a person or family that is in need. Even easier if there are animals involved. Everyone can be quick to judge, but that seems to happen with less and less frequency these days as people look past what may be viewed as obvious. Who would have expected a dog rescuer to  step up and rescue an entire family?
On a hot summer's day, Briana Jones found her family evicted from their home. Upset, confused, and unsure of what to do, she prayed. Strangers brought by pizza and water, and then Kellye LeBoff saw the family of three adults, four children, and two dogs in the open field. She quickly realized that there could be a problem in getting this family rehoused. Most likely, no one would want to accept the pit bulls, even temporarily.
………………………………………………………………………………………………………………………………………………………………..
Struggling herself and behind in rent payments, LeBoff's first instinct was to get those dogs situated. When you realize that LeBoff operates Jurassic Bark Dog Rescue, her concern becomes ever clearer. She opened her home to this family, one and all.
In an interview with Fox News, Jones said "We will forever be grateful to her because she did not have to stop."
Leboff's own statement rings truer than many may want to acknowledge. "We all need to have a little more compassion. You don't know when it's going to be your turn."
To learn more about Jurassic Bark Rescue, please visit their website and Facebook page.