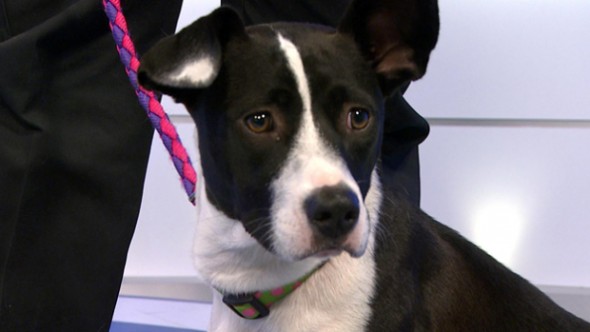 Janet Wilhelm has her dog to thank for a heroic rescue.  After spilling some dog food in the garage and slipping on it, Wilhelm fell hard.  She fractured her hip in five places, and was too far away from a telephone to call for help.
She tried to make her way to the door that leads into the house from the garage, but the pain was very intense, and no one else was around to help her.  No one except for her dogs.
"As they came out (the dogs) I was on the floor, of course, trying to get into the house and the dog came up to me, my black lab, Mabel, and she's licking my face.  I grabbed onto her collar just because I was in so much pain, and she just started to back up into the house and drag me into the house," said Wilhelm.
"I had to stop several times because it was so painful, but as I let go, she kept coming back and kissing my face and trying to tell me it's okay.  I ended up grabbing her collar again and she kept backing up.  And little my by little she dragged me all the way into the house until I could get to my phone."
Wilhelm is now recovering in the hospital.  She's going to make a full recovery, and has Mabel, her rescue dog, to thank for it.