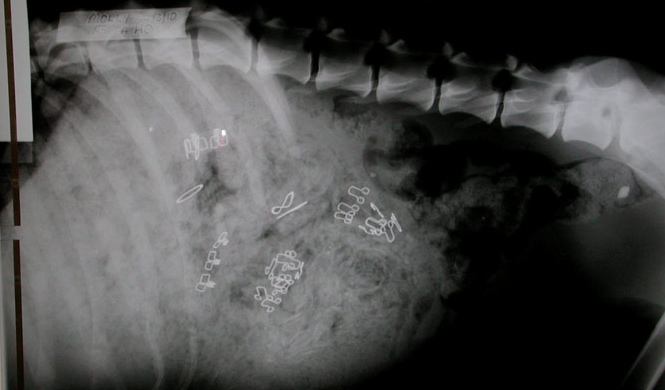 A UK Rottweiler named Molly has been seized from Rebecca Danville and Stuart lane of Grimsby. The dog was noted as having a distended stomach, and was only half the weight of a normal Rottweiler.
Vets immediately sedated and x-rayed the ailing pooch in search of answers and were amazed to find that Molly had a belly full of bras – twelve of them, weighing a total of eleven pounds. That eleven pound figure sounds sounds high until you hear a quote from Michael Jefferson, one of the vets responsible for Molly's care. "We pulled out around a dozen under garments which were very large and can only be described as for a lady of a fuller figure. Within days Molly was like a new dog."
Jefferson estimated that the undergarments had been lodged in Molly's belly for as long as three months. "In my opinion the owners of this dog by their negligence caused her unnecessary suffering over a considerable period of time in not seeking veterinary attention for her obvious emaciation and vomiting. She was like a hat rack when she came in and was almost skeletal. I've never seen anything like it. Her stomach was so distended it took up her whole abdomen."
Molly's owners plead guilty to animal cruelty charges in court on Thursday and were banned from owning additional pets. Molly is now recovering with her new family in Lincolnshire and is said to be happy and healthy – and thankful for the support of those who helped to rescue her.