A Texas family finds hope amidst tragedy when their dog is recovered alive a day after their house burned down.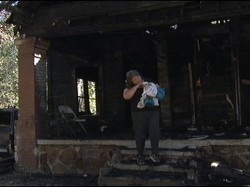 Patsy Alexander dug through the rubble of her parents home after it was destroyed by a fire last week. The Tyler, Texas resident was hoping to find a few sentimental items, and was shocked to find the family dog alive and well after spending the night hiding under a bed.
"I was just glad to see at least one come out and made it through this tragedy," said Alexander.
Alexander spent the afternoon at the aftermath of her uncle's charred home. Alexander is worried for the homeowner, James Culpepper. He was injured after helping his family to escape the blaze and is hospitalized in serious condition. Daughter Linda Cook is caring for his dog until he is released.
Authorities say the fire was started by a faulty heater that ignited a sofa. Culpepper's family is thankful his dog somehow survived, and said they are hoping to see the two reunited in the near future.