A Detroit man thought the best way to get rid of his dog was by driving to the country, shooting the dog, and leaving the pet for dead. Well, the animal abuser now faces felony animal cruelty charges for attempting to end his dog's life.
Gemma is the 2-year-old flat-coated retriever who endured such abuse at the hands of her owner. Fortunately, after being shot in the head with a crossbow, and surviving two days with the arrow lodged in her head, the pet was rescued and helped. Aimee Orn, chief animal control officer for Lapeer County, picked up the injured dog and transported her to a vet where the arrow was removed. Veterinarians say the dog is expected to make a full recovery.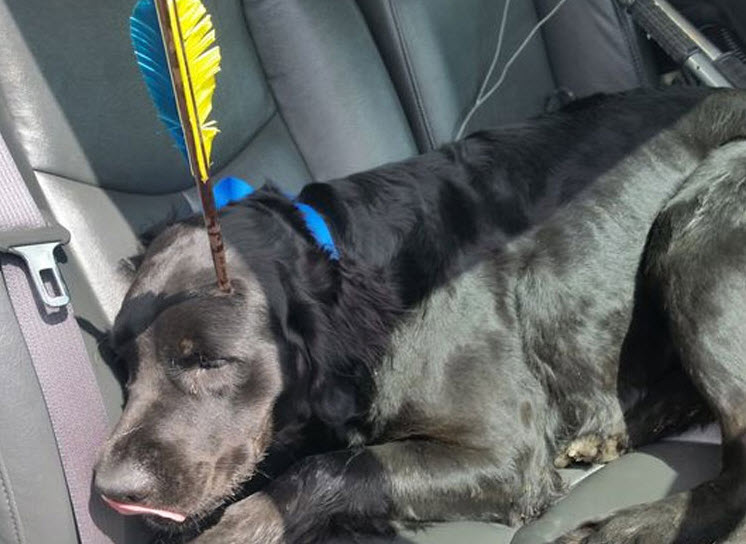 "It's a miracle," Orn told USA Today . "[The arrow] missed everything important by millimeters."
Gemma walked up to a construction worker on March 30, 2015, the man immediately called authorities and the dog was helped. The pet's owner and abuser was identified after a relative called police to report the man had shot his dog.
The animal abuser didn't deny shooting his pet. He said he did it because the dog was aggressive towards his other pet. The cruel man said he shot the pet and intended to bury the "dead" dog, but Gemma disappeared while the owner went back to his car for tools to bury the pet.
Police spoke with neighbors who said the man constantly neglected the dog. Neighbors also said the pet owner shot the dog because Gemma pooped inside the house. Nevertheless, authorities pressed charges because it is against the law to shoot a dog just to get rid of it. There are other options (re-homing and shelters) to fall back on when someone no longer wants to care for his or her pet.
Gemma will be evaluated before she is made available for adoption.