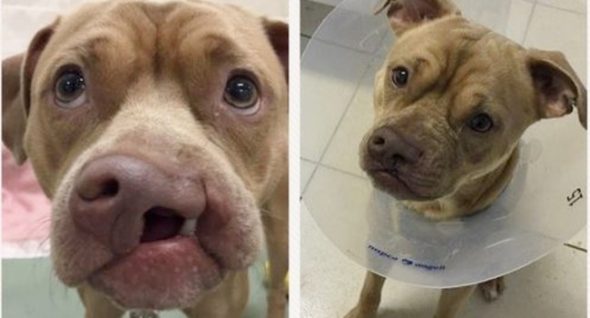 ————————————————————————————————————————————————————————————————————————————————————————–
His name is Clefford.
Yes, Clefford. With an E.
Reddit user Will Stoltenberg posted a before/after pic of his new rescue puppy, a pit bull mix who was recovering from a surgery that fixed his cleft palate. The procedure was done at the Angell Animal Medical Center in Boston.
"Clefford was in the shelter for at least three months," Stoltenberg told E! News. "I was drawn to him because I wanted to be able to help him overcome his 'disability.' I wanted to show him that the world is filled with fun and possibility. To be able to be the person that provides a great life to such a special pup was important to me."
"The surgery happened before I was able to adopt him but the little guy needed it," he said. "As I understand it, he could have had major infections. His cleft palate went all the way into his nasal passages. He could have gotten an infection in his lungs. Frankly he was lucky to survive puppyhood as the cleft can cause problems in nursing."
————————————————————————————————————————————————————————————————————————————————————————–
Healing, and looking sullenly handsome in his cone of shame, Clefford still has one more surgery ahead of him, but despite the convalescence he is enjoying the new digs of his forever home with Stoltenberg.
"He seems much more playful and affectionate now that he has a calmer, more open home."
His new dad has some great plans for Clefford, too. He hopes to have him certified as a service dog.