Warning: Graphic Images
————————————————————————————————————————————————————————————————————————————————————
————————————————————————————————————————————————————————————————————————————————————
Warning: Graphic Images
It doesn't matter how much you've seen while working in dog rescue. No one could get used to this level of cruelty. That said, the shepherd-rottweiler mix Detroit Dog Rescue volunteers have named Courage is now safe and getting the care and love he needs.
The 3-year-old dog was discovered by Detroit Animal Control officers. He was gravely injured, his neck infected from the metal carabiner piercing his flesh. He was weighed down by a 15-pound tow chain.
"This isn't something we normally see on the street — just carelessness for life," Kristina Rinaldi, executive director of Detroit Dog Rescue, told FOX2 reporters after the organization took over the dog's care on Monday. "It's horrific."
Authorities are investigating to find out who's responsible; they hope to be able to press charges. In the meantime, Courage — so named for his sweetness and resilience in the face of such an ordeal, will recover. DDR is looking for a special foster who's up to the task.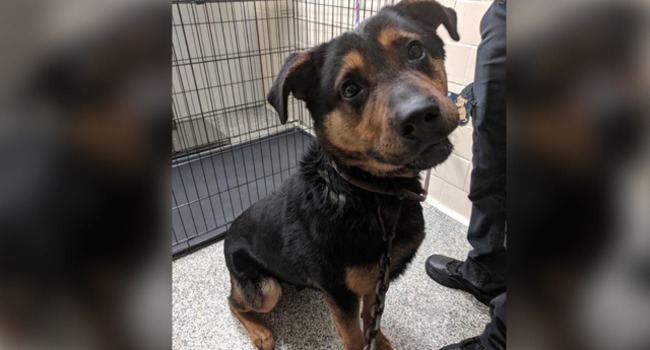 ————————————————————————————————————————————————————————————————————————————————————
"This needs to be a home with no children or other animals so he can decompress and we can care for him," Rinaldi said Tuesday. "DDR will provide food and medical care. We just need someone to provide a loving home."
Courage was rushed to Oakland Veterinary Referral Services in Bloomfield Hills. His necrotic tissue and heartworm were treated. Medical staff estimated Courage had been pinned for at least several weeks, Rinaldi said. "He was suffering in the cold, basically chained down with a metal piercing in his neck."
Despite all, his personality shines.
"He is about the sweetest dog you will ever meet," Rinaldi said. "He's very happy. He came to us wagging his little nub of a tail and was very grateful someone rescued him. He's warm and friendly with every doctor. He just has so much courage to go through this and come out on top with his personality like he does."
Courage will need roughly six months of medical fostering before being permanently adopted. DDR was seeking $6,000 to cover his vet bills but on Tuesday, Bissell Pet Foundation offered to cover the treatment, Rinaldi said. However, "if anybody wants to donate, that money is going to go to any legal action on Courage's behalf."
To donate, visit Detroit Dog Rescue's website.