Ty and Buster, Life with Dogs' travel correspondents, take you for a walk across the Golden Gate Bridge in San Francisco.
Buster: Some people think that if they take their dog on vacation with them they'll miss out on seeing the best sites.
Ty: Clearly, that's not true – as an example, just check us out on the National Mall in Washington, DC!
Buster: And, remember San Antonio's River Walk? The whole thing is dog friendly!
Ty: So we proved it again in San Francisco when we walked across the Golden Gate Bridge.
Buster: Dogs and pedestrians can stroll the eastern walkway of the bridge any day from 5 am until dark. The crowds get pretty thick on the weekends, so we went early Monday morning and had plenty of room to enjoy the views without having to worry that people might step on our paws.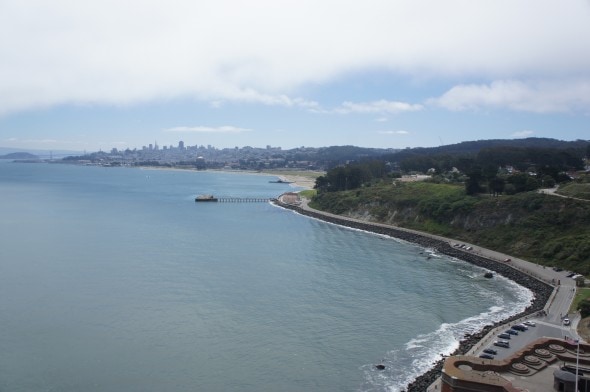 Ty: It's a long way down!
Buster: Whoa, that boat looks like a toy.
Ty: The bridge is 1.7 miles from one end to the other, and we were on the other side when I found out that I had to walk all the way back. Not cool.
Buster: Luckily there are turnouts along the way so you could rest. 🙂
What's the most unusual attraction you've visited with your dog?