On November 1, 2014, drivers in Pereira, Colombia, stopped a woman from intentionally killing her dog after the woman tied her pet to the back of her car and planned to drag him to death.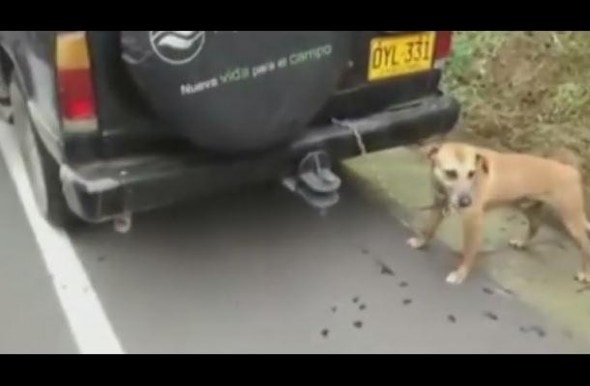 Wilder Rios, was driving his motorcycle on the road connecting Santa Rosa de Cabal to Chinchiná when he spotted a woman driving a black car with a tan color dog tied to the vehicle's back bumper. The dog was out of breath running behind the car and his paws were bleeding.
Amaro Cardona, a school teacher, was driving the black car, and said her dog was aggressive. He had bitten her and other people and as a punishment she wanted to end the dog's life.
Thanks to Rios and other drivers who blockaded her car, the dog is alive and well today.
Authorities were called and said that other than the injury's to the dog's pads, the pet is in good condition.
Residents and animal lovers across the nation are now petitioning for Cardona to be punished for her actions.
The video below shows when Rios argues with Cardona to save the dog's life. The video is in Spanish and it does not show the dog being dragged.