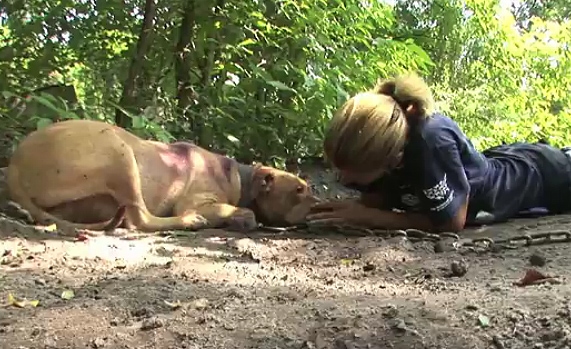 Following a tip from an earlier suspected dogfighting raid in Pamlico County, The Humane Society of the United States assisted the nearby Jones County Sheriff's Office in the raid of a second alleged dogfighting operation in Pollocksville, N.C. last week. Thirty dogs were seized at the second property, bringing the total number of dogs rescued from both properties to nearly 50.
Brian Devon Tucker was arrested at the Jones County property and charged with animal cruelty and dogfighting. Law enforcement found a large amount of suspected dogfighting paraphernalia at the second property and many of the dogs had scars and fresh wounds consistent with dogfighting. The 13 rescued adult dogs and 17 rescued puppies from Jones County will be transported to the same undisclosed location as those in the Pamlico case.
"Sheriff Danny Heath has implemented a Zero Tolerance policy in Jones County in two areas; drugs and just as importantly, on animal cruelty," said Captain Justin Eimer, chief of operations, Jones County Sheriff's Office. "We are proud of this stance and grateful for the assistance of the Pamlico County Sheriff's Office and The Humane Society of the United States for making this joint venture possible. Dog fighting will not be tolerated in Jones County."
The HSUS' Animal Rescue Team was also on hand in Jones County to help law enforcement document evidence and safely remove the dogs from the property.
"We are thrilled our combined efforts in Pamlico and Jones Counties resulted in the rescue of nearly 50 dogs," said Janette Reever, deputy manager of animal fighting investigations for The HSUS. "We are proud to assist the dedicated law enforcement officials in this community crack down on dogfighting."
The HSUS Animal Rescue Team and Hello Bully will help provide ongoing enrichment for the dogs while they are being held as evidence.
The HSUS offers rewards of up to $5,000 for information leading to the arrest and conviction of any person involved in illegal animal fighting. The HSUS asks anyone with information about animal fighting criminals to call 877-TIP-HSUS (877-847-4787). Tipsters' identities are protected.