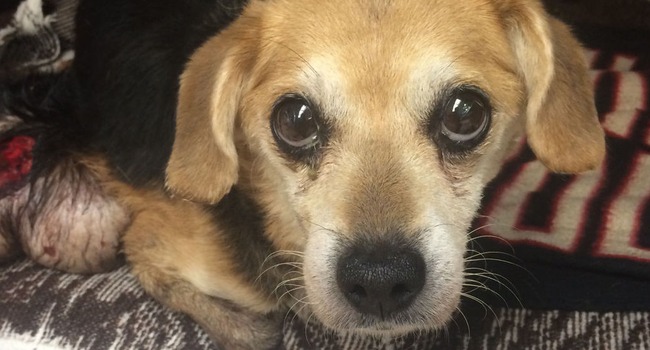 A female tri-color beagle mix was discovered in a Virginia Beach ditch last weekend, locked in a crate and obscured by a bathrobe. Emergency dispatchers were contacted by the citizen who happened upon the dog; they're now hoping the public will be able to assist in locating the pooch's owner.
"It is very clear that the crate was dumped," Animal Enforcement Unit Supervisor Meghan Conti told The Virginian-Pilot.
The dog later underwent surgery to remove a massive tumor on her left side.
"I think she has a good personality, a good demeanor," Conti told reporters at Virginia NBC affiliate WAVY-10. "Part of her demeanor comes from the discomfort she is in from the tumor."
Investigators are asking anyone with information on the dog or owner to call Crime Solvers at 1-888-LOCK-U-UP.