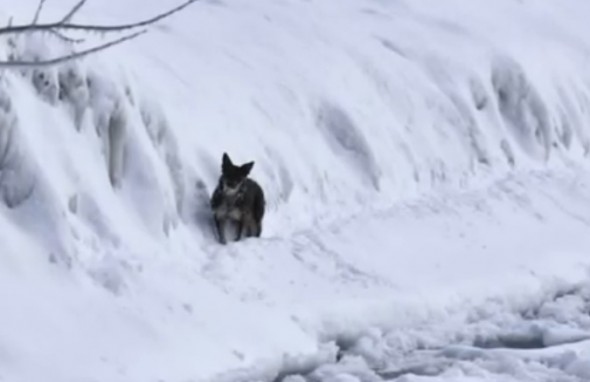 Emergency service crews and animal control officers spent about four hours in an effort to rescue a dog that became stranded out on Lake Michigan.  It may have been a harrowing situation for all involved, but thanks to their efforts, two-year-old Genevieve is safe and sound.
Apparently, when Genevieve's humans let her out in the morning, Genevieve decided to do a bit of exploring, instead of just doing her business and coming back inside.  She took off from the yard, and made a straight shot to the lake front.
Luckily, a photographer was not all that far from where she decided to go.  Had he not spotted her, this story could have had a very different ending.  Genevieve managed to get out onto the ice on Lake Michigan.
After making it about 150 onto the ice, part of it cracked, and Genevieve was stuck.  It was cold, icy and the wind was whipping the shoreline, making it very cold, and very dangerous out by the lake.  The first responder to the call was Humane Officer Robin Stroiber.  After arriving, Stroiber surveyed the scene, and due to the weather conditions and how far out on the lake, she was, she knew that the big guns needed to be called in for this one.
Firefighters from Cudahy and St. Francis, Michigan came out to the scene next, and started their part of the rescue.
"The dog was eluding the rescuers for much of the rescue," said Robert Schmidt, with the Cudahy Fire Department.
Determined to get Genevieve off the dangerous ice and out of the bitter cold, firefighter went for a more direct approach.  They had enough of trying to get her to come to them.  So they decided to go to her, and actually got into the freezing cold water, went out to her and got her out of there.
Finally, they got a hold of her and brought her back in to safety.  It took them four hours of trying to save her from what could have been a very dangerous situation.  She's expected to be returned to her humans after an overnight stay for medical purposes, whit animal control.  She should be back with her family very soon.