KSLA News 12 Shreveport, Louisiana News Weather
An Oregon family is stunned beyond belief after getting a phone call that told them their dog Sara,
who had been missing for 3 years, was alive and well.
Adopted into the family at 6 months old, Sara, a border collie mix, was a special member of the family.
"She was an awesome dog," said owner Kaitlyn Holkenbrink. "I loved her so much.
Sara was always ready to play. Tug-of-war with the kids was always her favorite.
"She was one of the best dogs I've ever seen," said 7-year-old owner Conner Riccitti.
Three years ago, Sara ran away.
"We put up fliers and contacted humane societies and vet clinics, but never found her after that," Kristin Riccitti said.
The family eventually lost hope, and assumed their beloved Sara was gone forever. That is, of course, until they received an unbelievable phone call. A staff member had called Kristin Riccitti to let her know that Sara had been found wandering in the base of a canyon in Kearns, Utah – 830 miles from Aumsville, Oregon where she had originally gone missing.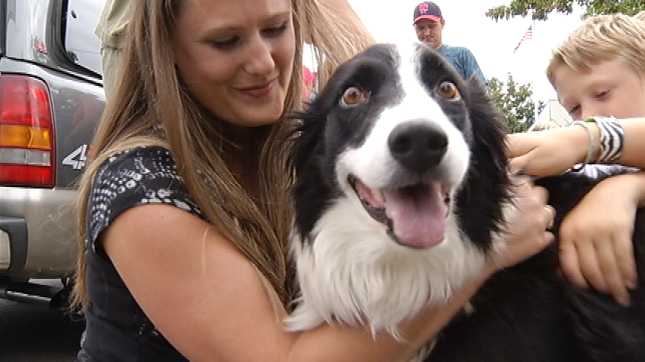 "It was so unbelievable," Kristin Riccitti said. "I was in incredible shock. I didn't ask if the dog was healthy or anything. I just got her name and number and said, 'Let me call my husband and see what we can work out.'"
A microchip was responsible for the miraculous finding, as it matched Sara with the Riccitti family. Problem was, the family had to find a way to get Sara from Utah, back home to Oregon.
Determined to bring Sara home, the Riccitti family organized a relay-caravan through Facebook. Thanks to the laws of separation, friends-of-friends were able to work together to bring Sara home.
The heartwarming reunion finally took place on Sunday afternoon.
"She looks very healthy and well-loved and taken care of and I couldn't ask for more than that," Kristin Riccitti said.
Even after three years away from home, Sara was back to her old ways – rolling over for tummy rubs and hoping for a good round of tug-of-war.
The family has no idea how Sara made it all the way to Oregon – they're just happy to have her home!