Oh, social media — is there anything you can't do?!
Well, sure there is, but it does work wonders when the goal is reuniting loved ones.
Case in point: this snazzily dressed rescue pooch: Frito!
He recently went live on his owner's Facebook page, spreading word of his desire to reunite with the siblings he hasn't seen since his October 2015 adoption.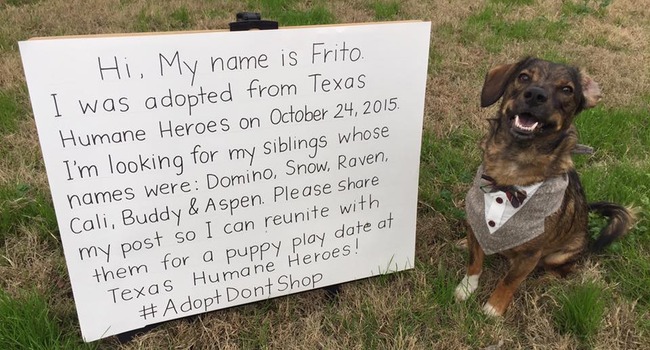 ————————————————————————————————————————————————————————————————————————————————————————–
His owner, Corrie Gemmiti of Leander, TX, told InsideEdition.com that when she first adopted Frito, the woman fostering the puppies offered to send pictures of the group.
A recent revisitation of the litter pic sparked some speculation; she "wondered what they all looked like and if they'd remember each other if they saw each other again."
With the help of the rescue from which Frito was adopted, Texas Humane Heroes, they were able to track down four of Frito's six brothers and sisters in less than two days.
The four dogs are now planning to enjoy a family reunion in the rescue's yard next month; they hope to track down the remaining two pups in the meantime.