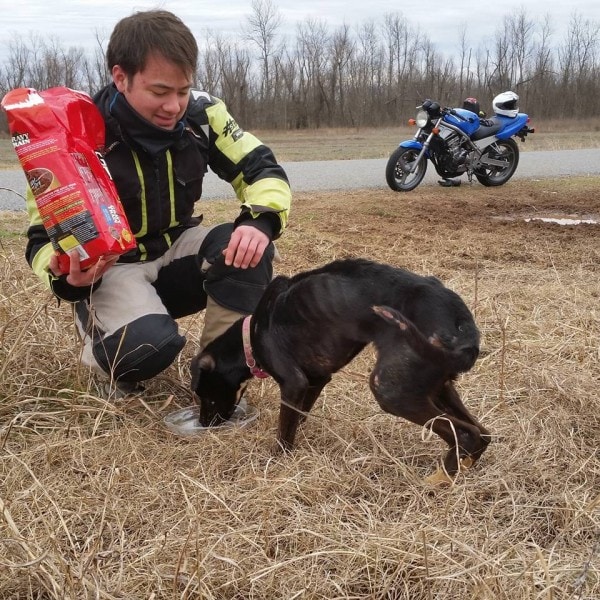 In today's day and age it's far too common for people to just dump a pet somewhere to die, instead of taking to one of the many area shelters, or to a Humane Society facility.   According to statistics from the Humane Society, about 7.6 million pets enter a facility of theirs, and the number is growing greatly increasing every year.
Many of the animals are actually not brought into the many UHA by their human parents.  Most of the time its a someone bringing in what they thought was a stray.  They literally had no clue as to the identity of the dog, nor it's human family's name.  Many end up being victims of overcrowding at under staffed and under funded shelters waiting for that forever home.  Some never make it.
However, every once in a while, someone comes along and does something incredible.  Bret Winnigar and his son Zach were out on a motorcycle run when they spotted something out of the usual.  They got off of their bikes and walked closer to the object they are seen.
It was an animal crate, and there was something alive inside.  The poor thing was so desperate, it was trying to claw and chew it's way through the plastic crate.
It took a while for her to come around, but she eventually figured out that the people there were  trying to help, and not harm.  She was coaxed out of the cage, and now began the all important next hurdle.  Getting close enough to gently grab her, which they eventually did.
The poor emaciated dog rode the whole way the the nice warm truck, and got to give such kisses.
When she was brought home, they gave her a complete bath, and already she was looking like a real dog.
They found