A female dog, too injured to move, lay down on some railroad tracks in Ukraine, despite the risk of being hit by (yet another?) train. However, her male companion refused to leave her side, and nudged her head down to protect her as speeding trains passed over them.
It's unclear if Lucy was wounded by a passing train in Uzhgorod, but she was too badly hurt and cold to move to safety.  Locals wanted to help her, but every time they came near, her boyfriend, Panda, barked at them to keep their distance.
Denis Malafeyev found the pair and shared the heart-stopping video of them narrowly surviving being struck by the fast-moving train.
"It's such a touching story. I got a phone call from a friend who said that there were two dogs lying on the railway track near Tseglovka village for two days," he explained.
"When we arrived, it turned out that one of the dogs, the female, was injured and couldn't move.  But the male dog was protecting her from us. I saw a train approaching – and felt sick."
The train was moving so quickly that there was no way he could have gotten to them in time to do anything.  Had he even tried, all three likely would have gotten creamed.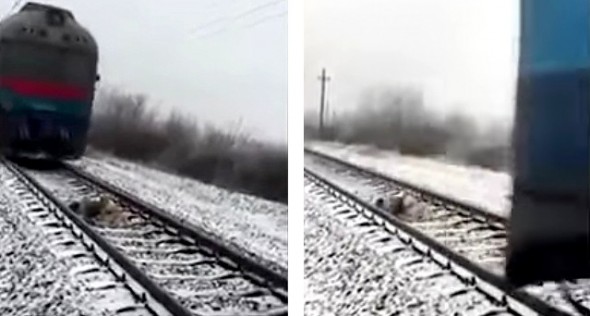 "The male dog heard the sound of the approaching train, came close to the female dog and laid down next to her.  Both of them pushed their heads towards the ground, and let the train pass."
They both survived, and once they were removed from the tracks, they were taken to see a vet.  Lucy did not have any broken bones, but she was badly bruised.  The dogs' family was found and reunited with them, but even after they were safe in a car and on their way home, Panda continued to snuggle with Lucy.
"The male dog was doing this for two days in a row. Think about it. He was keeping her warm.  I don't know what to call this: instinct, love, friendship, loyalty?  One thing I know for sure, not all the people would do the same as this."