Paco, a community dog from Lima, Peru, spends his days protecting a few blocks of his neighborhood. He is loved and fed by local residents and no one ever expected this loyal pet to get abused, let alone, that his abuser would be a volunteer firefighter.
The abuser has been identified as volunteer firefighter José Percy Chiroque Chacón. The man was caught on surveillance camera driving his white van for two blocks, while Paco was tied to the car's rear bumper. The graphic video shows how the canine was dragged down the street and was saved only when local residents saw the abuse and blockaded the car, forcing Chiroque Chacón to stop.
The community dog was rushed to a veterinary hospital where he was saved. Veterinarians say the dog was in shock, his pads were completely scrapped off, and he lost several nails from to the friction his legs withstood with the pavement.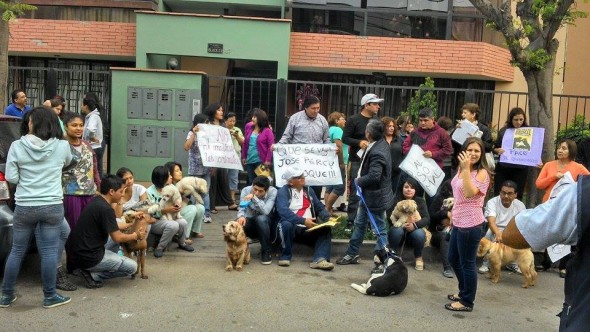 The abuser says he dragged the dog as punishment because the pet bit one of his sons. Chiroque Chacón told local news that his intention was to take the dog to a veterinarian to make sure he did not have rabies, but when he tried to put the dog inside his car, Paco tried to bite him and the man then decided to tied him to the back of the car and drag him down the street.
Other residents say Chiroque Chacón only wanted to harm Paco. Not only did the criminal drag the dog, he also punched Paco numerous times. What's more, the man has been accused of throwing a cat from a third floor apartment.
Area residents say the dog has never bitten anyone else in the past, and the pet is loved in the community, unlike the abuser.
When the local Fire House heard of what their volunteer firefighter had done, they immediately came out to support the dog and clarify that Chiroque Chacón did not qualify as a fireman.
Fire Commander Mario Casaretto, released Chiroque Chacón's records and said the man had joined the volunteer unit in 2001 and passed the exam in 2003. Since then he has only served on three shifts and therefore his limited experience on the job does not qualify him as a firefighter. His actions for sure do not represent the oath firemen take and they contradict the values the service men stand for. Chiroque Chacón is no longer welcomed at the firehouse.
Area residents have held protests and hope authorities get involved and punish the animal abuser.
Paco was released from the veterinary hospital and is currently living with one of the neighbors. The community says Paco will always be protected and this atrocious act will never again happen to him or any other area pet.