——————————————————————————————————————————————
BOXBOROUGH, MA. — At press time, Boxborough firefighters were unsure if the dog — one guessed it was a Chow mix — had an owner who might be missing it, but either way, they were happy to free the poor pup from its muddy prison.
A call came in on Thursday morning, alerting rescuers of the mud-bound dog. Passersby heard it barking from the Boxborough woods where it was trapped, Boxborough Fire Chief Randolph White told Wicked Local Boxborough.
Firefighters answered the hapless hound's call, using backboards to stabilize the soggy ground and enable the rescue efforts.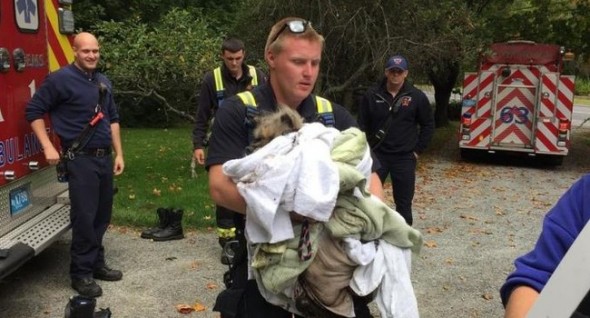 ——————————————————————————————————————————————
​"The dog was stuck in pretty good. I would say three-quarters of the body. It was up to his high shoulders at least — basically the front paws was out of the mud," said White.
He theorized the pup may have been chasing something when it became mired in the thick mud. "Even a person would [get stuck] if they tried to walk in there because it's so soupy," said White.
At press time the dog, which seemed shaken but healthy, had been transported to ​a local veterinarian for evaluation.