On Saturday, Sept. 21, 2013, the Hopkins family from the Standard, Illinois area, had a scheduled well maintenance call, but they never expected their maintenance call would turn into a rescue mission. Doogie, the Hopkins's Goldendoodle accidentally fell in the well, and after two hours trapped, Standard firefighters were able to safely retrieve the house pet.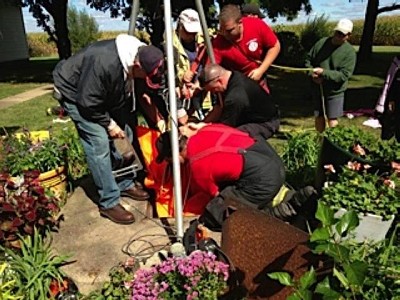 The Hopkins, who were experiencing water problems had called in to have someone look at their well. When maintenance workers came to the property, they opened the top of the well, and Doggie rushed to greet the workers. Unfortunately, the dog fell 23 feet into the water of a 37-foot-deep well.
"It was horrifying," Arch Hopkins told News Trib "He was hanging on the brick edge of the well or dog paddling. We knew he was at least alive."
The family immediately called 911 and Standard firefighters were dispatched to the Hopkins's household.
A gas monitor was lowered into the 37-foot-deep well. Its readings determined the oxygen levels in the well were lower than normal, but not life-threatening.
The firefighters set up a tripod above the well and lowered firefighter Kyle Camatti who study Doogie's condition and determined the safest way to pull the dog to safety.
Unfortunately, all the rescue equipment firefighter carry with them is designed for humans, and putting a human harness on a dog was not possible, nor was this a safe option.
"The major delay was trying to figure out what to get around this dog," said Fire chief Mike Skowera.
The rescue team decided to use a mesh body bag usually used when pulling the bodies of drowned victims. This bag enabled rescuers to secure Doogie and allow the dog to breathe from within the body bag.
Calamatti was lowered into the well for a second time and this time he secured Doggie making it possible for his team member to pull them both to safety.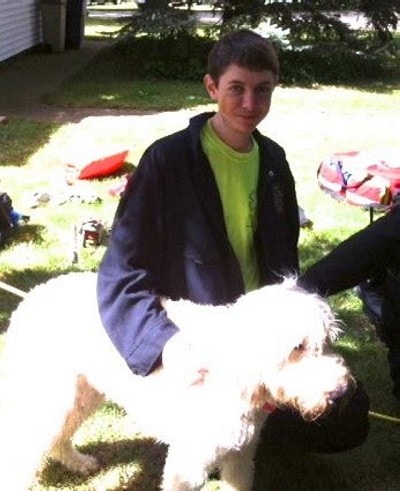 The Hopkins's veterinarian was also on the scene. Dr. Allison Spayer examined Doggie and said the pet only suffered from a scratch on his eye and a bruised lip.
Doogie's owners are immensely grateful for the professionalism, concern, and respect rescuers showed towards the family and their beloved pet. Thanks to them, their quick actions and innovative thinking, Doggie is alive and well today.