Sh Ch Vbos The Kentuckian, aka Jet, a Flatcoated Retriever from Edinburgh took Best in Show at Crufts Sunday.
In a tough final, against a strong field of competitors,  Jet and breeder Jim Irvine from South Queensferry were chosen as the champions and presented with the prestigious trophy.
Irvine said,  "We're delighted, absolutely delighted to win this show. There have been lots of good dogs here over the last four days but he has a very happy and outgoing personality and it shows in the ring."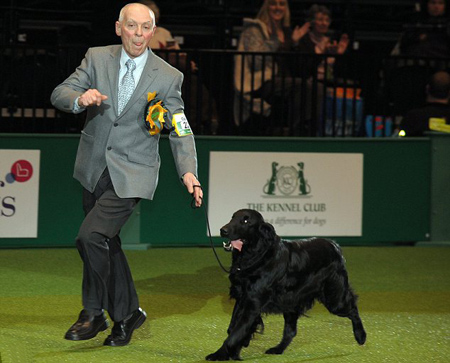 Jet's owner was ecstatic. Iain Ross said, "I am over the moon, I can't believe it. It's a lifetime achievement, it's wonderful."
According to The Kennel Club attendance topped 138,000 as people came to watch the 21,422 dogs compete over four days. Crufts celebrates it's 120th anniversary this year.