You can't live a perfect day without doing something for someone who will never be able to repay you.  ~John Wooden
The need for foster homes is overwhelming during good financial times; during tough ones like the present it becomes a life or death situation.  When rescues and impounds are overwhelmed with a population they can barely handle sometimes dogs and cats that would normally make very good pets get overlooked or evaluated poorly based on behavior in a very stressful situation.  Often these dogs are the first to be euthanized because shelters don't have the time or the staff to try and figure out if the animals are truly aggressive or just so confused and upset that they don't present well.
This was the situation recently with a dog that I brought home to foster.  I'd volunteered at the shelter several times, and taken care of all the dogs on a ten-day stint while the owners of the property went on vacation.  I noticed that this one particular dog jumped constantly. Indy didn't hear people when they said "no", she didn't even hear her name.  She barked incessantly, and trembled continually.  When taken from the outside pen to the kennels indoors her eyes would practically bug out of her head and once inside the jumping began again.  She had been doing this for months.  I looked at her history, and the evaluation from the trainer.  She had been labeled 'aggressive.'
I began working with Indy.  When I brought her inside to the kennels instead of putting her away we walked right through the building and out the other door for a walk.  The relief in this dog's entire demeanor was evident.  Indy would take a big breath, sit down and quit barking.  With a few short lessons she was walking nicely on-leash.  When I would go into her kennel and physically touch her the jumping and barking would cease.  She would look at me with a face that was so full of relief it made me sad.  Up on my lap she was happy and calm. She had been at the rescue for over six months, her time was running short.
Always a sucker for the tough ones I made the decision to bring her home.  I already had three Jacks of my own, Marshall the puppy mill rescue, and my two females.  I knew that Sharkey and Indy would NOT get along and that I would have to keep them separate, and if I judged from the eval of the trainer I'd have to keep her separate from all of them including the cat.  My fence is rather low, not good for a jumper, so she'd have to be on-leash always.  Not the optimum situation for me time-wise, but I felt this dog had potential we didn't see at the shelter and I needed to afford her the opportunity if it was there.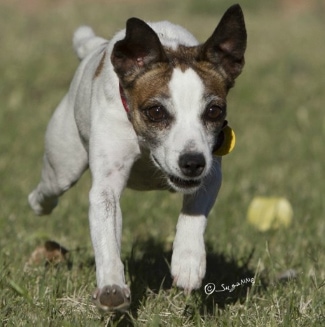 photo: Suzanne Sylvester 
Suffice it to say the dog is a rock star.  She got along well with Marshall (RIP) and gets along well with Charm my senior female.  She loves the dog next door, and they tear about his yard and play nicely.  She even likes the cat and the two spend time together every day.  She's great with senior people, wheelchairs, people we meet on our walks, in the park, at a company picnic, and loves to play ball.  The jumping has stopped.  The barking has ceased.  She gets regular exercise and lots of love.  All Indy needed was a chance.
Some dogs cope more effectively than others in a kennel situation. Indy doesn't cope well at all.  This is where foster becomes even more valuable.  Some dogs don't get a fair shake from the person evaluating them.  It could be for many reasons.  The dog behaves like a nut case, which was Indy's case; the trainer has limited time to make a good eval or is unfamiliar with traits of a certain breed, is inexperienced, or the rescue has no trainer at all.  Whatever the cause the effect is the same.  The dog (cat) pays the price and adoption looks hopeless.
I'm not advocating that you go to the nearest shelter and pick out the toughest dog there, or one labeled 'aggressive' unless you have lots of experience.  But the ones that bark a bit, jump too much, seem a bit 'over the top' may just be having a difficult time coping with the situation into which they've been forced.  Foster care can help a younger adolescent dog learn to behave, give an elderly dog a chance – as they fare the worst in a kennel situation, and give the difficult dogs a chance to prove themselves.
It's not always easy.  Sometimes fostering takes large amounts of time and energy, and can take time away from the animals you already own, costs a modicum of money and an emotional investment of which you'll need to be willing to let go.  But, in my opinion, it's one of the best ways to help the rescues, the animals, and to give them a chance at a forever home in their future.  I just couldn't leave Indy there without giving her a better chance at finding someone to love her.  Each time she looks up at me with those eyes full of joy I know that I did the right thing for the dog and for myself.
If you want others to be happy, practice compassion.  If you want to be happy, practice compassion.  ~Dalai Lama
Indy is now ready for a forever home.  If you have an interest in Indy, please read more about her here: http://www.sharkeypup.com/blog/blog/190711075626/The-Chronicles-of-Indy—1.htm and use the 'contact form' on the site to contact the author.