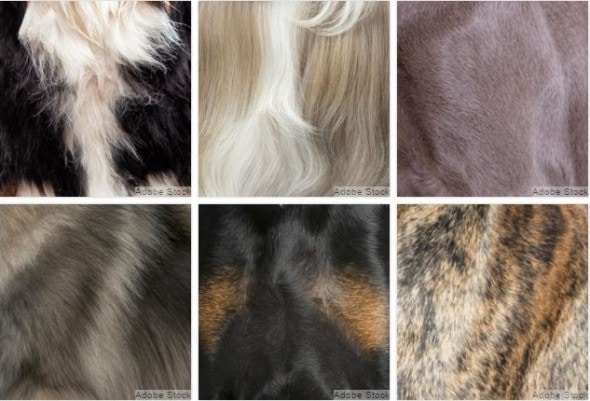 How well do you think you could identify different coats of dogs? Well, the folks at The Animal Rescue Site have created a fun little challenge that will let you see how well you know your dogs.  Fifteen coats for fifteen breeds, some are definitely easier than others.  But this raises a question about dog coats and how many different kinds there may be, notwithstanding, naturally, the many variations thereof for mixed breed dogs.
Pet University has taken this down to basics, citing five basic hair types for dogs; smooth, medium, long, wire or broken, and wavy coat.  Their particular focus is on the grooming aspect and they go so far as to explain what goes into taking care of each of the different types of hair and pointing out, for example, that owning a dog with a smooth coat will require less grooming, a bath and good brushing will do the trick in keeping the dog looking smart, whereas as long-coated dog while require more attention.  Essentially, a smooth-coated dachshund verses a n Afghan Hound.  Cowboy Magic also mentions the double, curly, and hairless coats and some key pointers, too.  The Isle of Dogs, however, goes into greater detail about dog coats with a nice explanation about the different types, including corded, such as on the Komondor and Puli.
The long and short of it, really,  comes down to this. A dog's coat and skin is his barrier against the outside world.  Keeping his or her coat and skin healthy is essential to their well-being. When an animal isn't feeling well, often the coat will lose luster, hair may fall out, the skin will present with lesions, and so forth, all indicators of a dog's health condition and perhaps the need to see a veterinarian.  Coming into flea and tick season, it is even more important that owners pay close attention to their dog's coat and skin after being outdoors.  A healthy coat equals a healthy dog and whether you scored well or not of the quiz, what really matters, when all is said and done, is that your dog is happy and cared for.