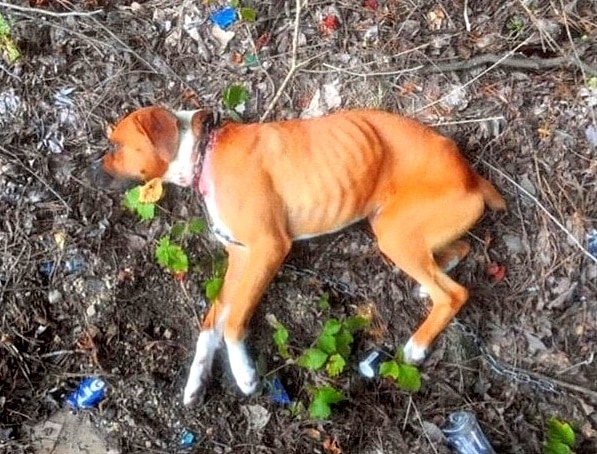 A dog whom no one cared about, who spent months, possibly years, being tortured and finally left to die in a ditch, has been given a second chance at life.  He was found and is now receiving all the love he could possibly hope for.
A woman in Alabama flagged down Jefferson County sheriff's deputies who were in the area responding to another call.  She told them she was walking down the road when she saw an injured dog in a ditch.
The deputies found an emaciated, dehydrated boxer with a chain wound so tightly around his neck that the skin had grown around it.  Chief Deputy Randy Christian said the deputies gave him water and called the Greater Birmingham Humane Society in to help.
"This is a beautiful dog. We want to know how it ended up where it did and in this condition. To do that we have to find the owner," Christian said. "Owning a pet takes time, nurturing, and care, much like a child. But also much like a child, the rewards are tenfold."
GBHS took him in and are now giving him proper care.  They were able to remove the chain and treat his wound.
"Once the chain creates the wound and the skin separates, then it starts to heal," Holly Baker of the GBHS said. "Well, it heals around the chain."
In the meantime, deputies are searching for the person responsible for this boy ending up in this condition.
"We're looking at the extent of the injuries, the time this possibly went on, that will lead us to possible charges," Christian said. "Certainly in most cases, if the abuse and neglect is severe enough, it can be a felony charge."
"When you abuse and neglect a dog, much like if you did it to a child, our society is not going to put up with it."
Anyone with information is asked to call the Jefferson County Sheriff's Office at 205-325-1450.
Staff at the GBHS believe this dog will definitely recover from his injuries.  When he does, he will be put up for adoption.
"He's going to recover fine," Baker said. "It's going to take some time for the infection and wound to heal."