For some bizarre reason, Cookie walks out of the kitchen backwards.  She hasn't always done it, and she walks normally everywhere else, but two months ago began reversing out of the kitchen, and her family is completely baffled as to why.
We all get used to the sounds our pets make, as if we have our own secret language with them.  I know the sound of my dog's claws "tap dancing" in the kitchen, or which cat is drinking water from the water dish in our bedroom just by how loudly he laps it.  One day in March, Graham Watts could hear his dog walking strangely and texted his wife a clip of her new exit with the caption, "What happened to the dog?"
Linda Watts didn't know either, but she and her husband started keeping an eye on Cookie and her peculiar new habit to try to understand what was causing her to suddenly begin behaving this way.
"We've had her since she was a puppy and she has always been fine but now she does it every single time," the Yorkshire woman told Metro.
"She walks forwards into the kitchen to her food bowl, picks some food up and backs out around the corner, into the living room, between the sofas and onto the rug where she eats her food."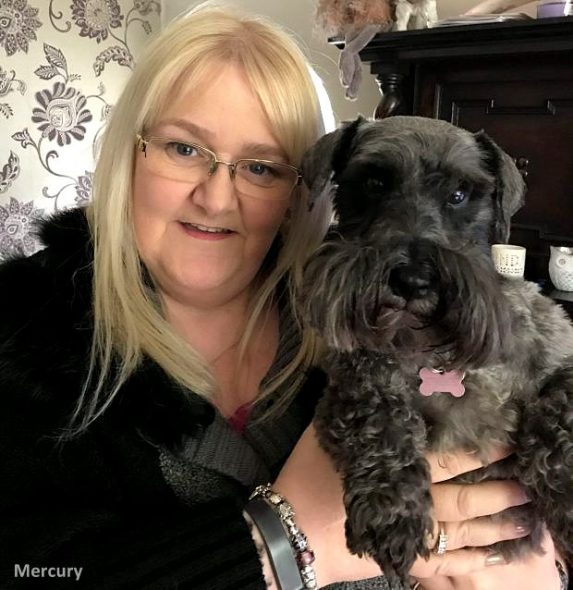 "That is the only place in the house she does it and I hope she doesn't plan on extending it. I don't want to have to walk her backwards around the village.  She needs a set of those little reversing beepers and warning lights," Linda joked.
"She does the same every single time. I don't know what's happened to her.  When people come over and see it for the first time they ask what's up with her but nothing's up with her, she's just crackers.  She's completely baffled us all. It must just be an odd phase she's going through."
We're not sure why, either, but I have a suggestion for a solution:  put Cookie's food in another room!