Seventy-four-year-old Luther Johnson, from Philadelphia, is alive today thanks to his guide dog Yates. The two-year-old German shepherd woke Johnson up from a deep sleep on Monday, Dec. 9, 2013, and if it wasn't for the hero  dog, Johnson would have perished in the fire.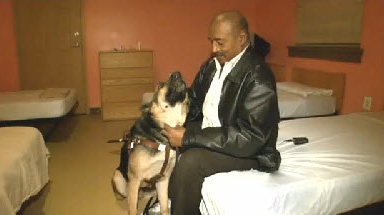 "I felt something nudging me, like touching me, and I jumped up, and that's when I smelled the smoke," Johnson told CBS's Diana Rocco.
Yates had been prancing and pushing on his sleeping owner to wake him up. Once awake, the guide dog led Johnson out of the burning home. Local firefighters were just arriving on the scene to put out the fire.
"Angels are God's messengers and workers. So He sent them, he sent an angel, and I guess the angel was through my dog Yates," Johnson said.
The fire destroyed the property, which had been Johnson's home for the past 38 years. The cause of the fire is still under investigation but it is believed the fire started due to an electrical malfunction.
Johnson lost his sight 30 years ago, and since then he has been relying on guide dogs.
"I'm blessed," said Johnson. "All I've been doing is thanking God."
We are happy that Johnson and Yates are safe!