On August 31, 2011 a woman in Sanford, Florida, first encountered Harper when she spotted a squirming garbage bag. There was a man outside a Save-A-Lot selling Pit Bull puppies. This woman approached him and noticed a noise coming from a garbage bag he was holding. She asked him, 'What's in the bag?' and he said, 'Don't worry about it.' The woman pressed the issue and the man gave her the bag. Inside was a puppy so deformed that it couldn't walk or hold up its head. Shelter workers and veterinarians grimaced when they saw the dog and came to the same conclusion: She really should be euthanized.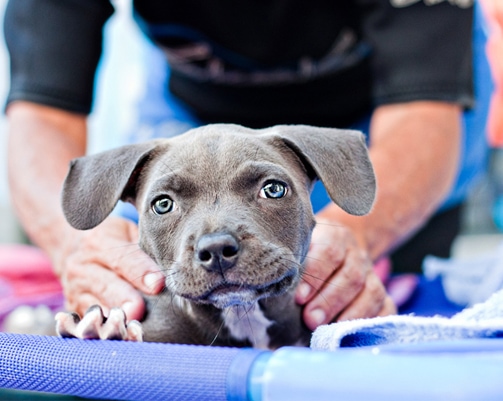 That's when Dolly's Foundation stepped in. Erica decided to take the puppy home for one full and final day of unabashed affection. She had to show her what it was like to be loved. She'd planned on taking Harper home that night, letting her sleep in their bed, and having her humanely euthanized in the morning.
Erica massaged Harper's tight muscles, hoping to alleviate some of her stiffness and pain. Within just a few hours, Harper started lifting her head and looking around. Her front legs became more limber as well, so much so that she tried using them to walk and pull herself around.
Convinced that this determined little dog needed a second opinion, she canceled the following morning's appointment and made a new, hopeful one with a veterinarian at the University of Florida. At first, the vet described the reasons Harper probably would need to be put to sleep. The list included the likelihood of degenerative bone disease, brain abnormalities and a severe heart murmur.
Despite the veterinarians grim recommendations, we pressed on with testing. We knew Harper wanted to live, and we were going to do everything possible to make that happen.
We learned that she has a condition called Pectus Excavatum (Swimmer Puppy Syndrome). We also learned that she has a brain condition, Hydrocephalus, and a heart condition, Pulmonic Stenosis. They are both mild and will require monitoring, but not surgery.
Hip Dog Canine Hydrotherapy & Fitness in Winter Park, Florida donated free hydrotherapy and massage therapy for Harper. Harper responded remarkably well, and before long she actually started walking. Bev McCartt, a Hip Dog therapist, explained that swimming has helped teach Harper what her natural gait should be. "Her brain kicked in and by the end of her first session, she was like, 'Oh, I can do this,' " Bev said. "She's a walking miracle. She's a real testament to a dog's determination to get up and just go."
Now, Harper is almost like a normal dog. She runs, plays, and even started training! Harper's joy for life, despite the hand she was given early on, is incredible. Her determination can teach us all something. Her love for humans, even after what they put her through is admirable. Above all, Harper's journey serves as a subtle reminder that compassion and commitment can move mountains.
Harper, you are an inspiration to us all. We love you.
-From Dolly's Foundation
VGCVDUY3KFZH
Photos: 1, 2 © Flyin Fur Pet Photography Painting: Ron Burns