A woman named Joanna Mellor had her life saved after going into cardiac arrest and being clinically dead for half an hour when her dog barked until her boyfriend woke up and called for an ambulance.
The UK woman was sleeping on January 2nd when she suffered a heart attack and stopped breathing.  Her Lab, Leo, began barking frantically until her boyfriend, Andrew Rayment, woke up.  He called 999 and performed CPR until the paramedics arrived.
"I was half asleep when Leo woke me up," Rayment told the Daily Mail.  "I heard Joanna's breathing becoming erratic and I tried to wake her and tapped each side of her face, but she was unconscious so I called 999."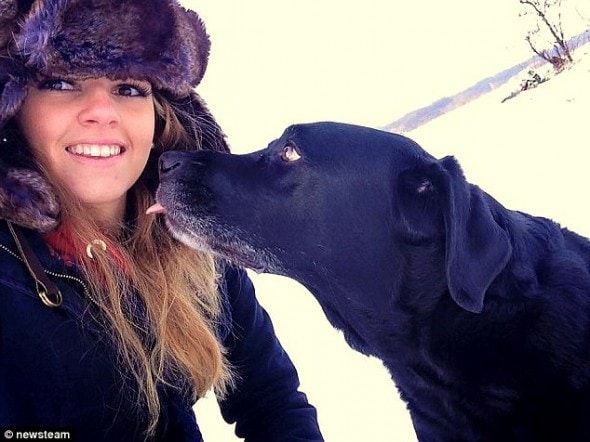 "My first thought was that I didn't want to waste the paramedics' time but when I was on the phone her breathing went from in and out to every few seconds.  I tried not to panic and to stay focused. I kept thinking that the only chance she has relies on me doing the CPR properly."
Mellor quite expectedly doesn't remember what happened.
"I remember going to bed and drifting off the sleep and the next I know I'm in intensive care in hospital and told I'd suffered a heart attack," she explained.  "The doctors say I was technically dead because it took Andrew 30 minutes to get my heart started."
"Andrew said he woke up with Leo barking and jumping up at my side of the bed and going mad.  He says he could tell something was wrong with me and dialed 999 and the operator talked him through CPR.  At first the doctors said I might be at risk of brain damage and I couldn't feel my legs and one of my hands was all limp, but I've now made a full recovery."
She has since been diagnosed with Wolff-Parkinson-White syndrome, which causes the heart to beat abnormally fast and can trigger heart attacks.
Amazingly, because of Leo and her boyfriend, Mellor has made a complete recovery, which is rare.
"I've been on the job for 14 years and I've never seen anything like it," said paramedic Glenn Radford.  "When people suffer cardiac arrests, quite often they are left with neurological problems. They don't usually make a 100 percent recovery."
"I owe my life to my dog and my boyfriend," Mellor said.  "If Leo hadn't woken Andrew up I might not be here today."