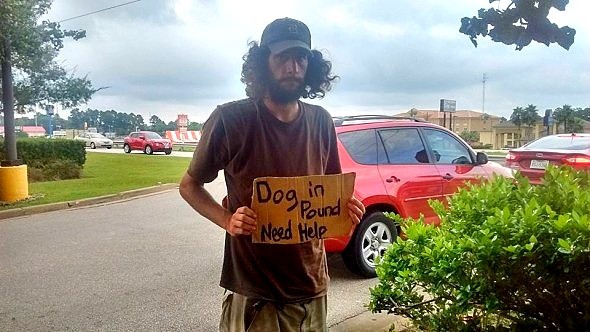 Patrick would do anything for his dog, Franklin, even making sure he got food first. When things went from worse to much worse, he took to a cardboard sign with the words "Dog in Pound – Need Help." Wilma Price saw that sign and felt compelled to find out Patrick's tale.
This is an amazing story about a woman who saw a homeless man and was touched by what she read. So much so, when his story unfolded, in spite of her own personal challenges, she was compelled to help this man and his dog.
Here, in Wilma's own words, kindly edited by Casey who brought the story to our attention, is the tale of Wilma, Patrick, and Franklin, the very essence of compassion, love, and humanity.
Wow what a day today has been. I was on the way leaving Huntsville and had to stop to pick up some shots. I run through Walmart parking lot and I see a homeless man sitting on the side of the road and the sign says [my dog is in the pound help]. Of course what do I do – I've seen every sign in the world except that one. I've seen "I need a beer", "lost my job", "need help", I could go on forever but never this sign.
So I tried to pull to the side and of course everybody's pissed off because I'm blocking them and I asked him what his deal was. I gave him my card and I asked him how much it was to get his dog out of the pound. He said $120. Well I had $8 to my name. I told him I'd see what I could do.
At first I called the pound to verify if the man's story was true and they said yes, and it was $120. I asked why so much? The pound said because $35 was for impoundment fee then they gave [the dog] rabies shot, a heartworm test (yes the dog was negative) and put a flea prevention. They said yes the dog was in good shape.
So now when I don't have a dime to my name I call a dear friend to sponsor money. I tell her about this guy, she says, "well go back and find out his story", so I did. 30 years old, his name is Patrick. I talked to him for a few minutes and he told me his circumstances and stuff.
I told him "well I'm getting the money to get your dog out so let's go down to the pound". Me and Patrick go down to the pound, give them all his paperwork and a copy of the rabies but they had already re-vaccinated the dog. Patrick went to jail for trespassing, they kept him there for 2 days and impounded his dog Franklin. The dog was shaking when he came out of the pound, so happy, happy to see the man.
So sometimes you just have to dig deeper and do what's right in your heart. that man loves that dog. on his backpack was the dog's bowl and toys. it's helping the dog against the world. the man was very, very grateful. he had tears in his eyes when the dog came out.
We've all been in a bad situation in our life so remember always pay it forward. you never know who that person might be that you help. but I know for a fact that man loves his dog and he tried to give me the money he had collected. I wouldn't accept it because maybe he can have some dinner tonight. he said his dog eats before he does. Wow, that sounds like me too.
I wish I had the money to get the man a room for a week and let him and Franklin regroup but unfortunately I don't. all I can do is give him his dog and pray that life gives the man a break. I cried after the man and Franklin left. I had dropped them back off in Walmart parking lot. Our world is a sad cold place I'm attaching pictures of Patrick and Franklin this afternoon in Huntsville, Texas less than an hour ago. the pictures are from Walmart's parking lot and the pound and in my truck. God please bless Patrick and Franklin tonight.
Casey shared several additional pieces of information.  The first, Wilma has asked that anyone who would like to help Patrick and Franklin out to her shelter group's website and address it to "Patrick and Franklin" – http://mrkspetshelter.org/donate/. There has been a GoFundMe page sent up, but she is not affiliated and wants to make sure that Patrick and Franklin are the recipients of any kindness.
Second, Casey just spoke to Wilma via Facebook, who shared that she intends to drive the pair to Dallas in hopes of finding more resources to help Patrick rebuild his life.
For anyone who ever doubted angels walked among us, Patrick as a guardian for Franklin, and Wilma as a stranger who reached out to do whatever she could to make someone's life better, there should remain no question.
To follow the story, please visit Wilma's Facebook page.