BOSTON, July 30, 2012– It was an extraordinary meeting for "Dee" and "Martini" when the dogs, litter mates who had been adopted into separate homes as soon as they were weaned from their mother, were reunited for the first time last week in the lobby of the MSPCA-Angell Animal Care and Adoption Center in Boston.   Adoption Center staffers witnessed the two dogs race toward each other and bark excitedly in a joyous celebration that only bonded siblings can truly understand.
Dee and Martini's reunion—and the many twists and turns they each took before ultimately ending up together again—illustrates the sad road homeless dogs must travel before they are ultimately adopted.
When Tricia Lesniewski of Chelmsford, Mass. came to the MSPCA in September 2011 in search of the perfect rescue dog, she was drawn to Dee (then named "Hearts"), a playful Pit Bull mix who had been surrendered a month earlier.  Coincidentally, Martini, was also onsite that day—her then-owner had brought her to be spayed as part of the MSPCA's 
Spay Neuter Assistance Program
 (SNAP) and confirmed to Adoption Center staff that Martini was in fact Dee's sister.   After spending several hours with Dee, Tricia knew she found the dog she and her husband, Ian, were looking for and adopted the lucky canine.  While Dee left with Tricia to begin a wonderful new chapter in her life, Martini underwent her surgery and later returned home to her owner.
Martini Finds Herself Homeless…and Hopeful

Dee immediately adapted to life with Tricia, Ian and their two cats.  Said Dee of the new addition, "I was so impressed with how quickly Dee made the transition from life in the shelter to life in my home.  It was as if we had been together forever: we bonded instantly and she became an immediate fan favorite at the dog park by greeting every dog she could with canine kisses and an invitation to play."  While Dee enjoyed the predictability and safety of life with an adoring owner, life for Martini was about to take a scary turn.
Forced to part with their dog due to a change in their landlord's pet policy, Martini's owners surrendered her to the MSPCA on July 13, 2012.
As Martini settled into life at the shelter—playing with squeaky toys and napping amidst the din of other homeless dogs for whom the Adoption Center staff searches tirelessly for homes—manager Alyssa Muro placed a call to Tricia, "just to see if Tricia might know someone who was looking for a dog similar in size, age and temperament to Dee," she said later.
Reunited and it feels so good
That fateful call could not have come at a better time.  Tricia and Ian had so enjoyed Dee's company, and the many joys (and responsibilities) that accompany bringing a dog into the family, that they began to seriously consider rescuing another dog.  Tricia agreed to come to the Adoption Center with Dee to meet Martini.  "I was blown away by Dee's reaction upon seeing Martini," she said.  "Dee has always been incredibly fond of other dogs, but here she was in the middle of the shelter lobby yelping and pulling desperately—just to get closer to Martini who, in turn, was just as eager to reunite with Dee."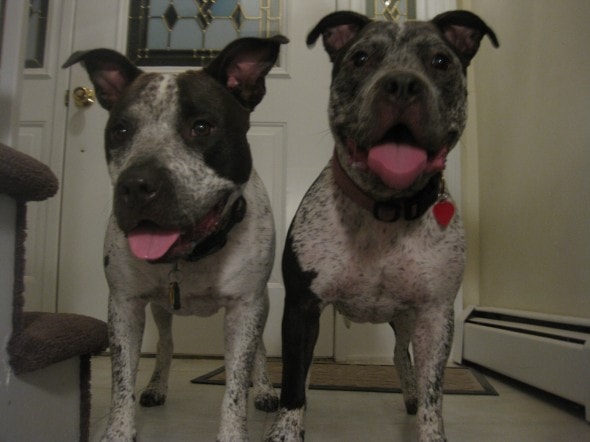 The incredibly joyful reaction of the dogs sealed the deal for Tricia.  She knew the best course of action was to adopt Martini and ensure that both she and her sister would enjoy the forever home, together, that they so deserved.  "I took Martini home that day and am so grateful that we were able to bring them both together again.  It gives me enormous pride—and joy—to know they will live together in a safe, loving and happy home."
The MSPCA-Angell's three state-wide Adoption Centers take in and place thousands of animals into new homes each year.  To view the agency's database of adoptable animals, go to www.mspca.org/adoption/adoptable-animals
The MSPCA-Angell is a national and international leader in animal protection and veterinary medicine and provides direct hands-on care for thousands of animals each year. Founded in 1868, it is the second-oldest humane society in the United States. Services include animal protection and adoption, advocacy, humane education, law enforcement, and world-class veterinary care. The MSPCA-Angell is a private, non-profit organization. It does not receive any government funding nor is it funded or operated by any national humane organization. The MSPCA-Angell relies solely on the support and 
contributions
 of individuals who care about animals. Please visit 
www.mspca.org
.