———————————————————————————————————————————————————-
Cowboy and Trump are spoiled and beloved. And can often be found glued to the front window of their Houston, TX, home barking up a storm at the neighborhood dogs and the squirrels.
So when things got quiet 'round the old homestead, their owner, Deborah Fowler, knew something had to be up.
"I called the magic work — 'treat' — which always elicits wagging tails bounding at me," she said. "There were no wagging tails."
She searched the house and found Trump standing just outside the front door. Wondering how on earth he'd gotten out (and crating him for safety), she pondered the obvious question: where is Cowboy?!
She headed out, and can't even remember if she got a "COWBOY!" out of her mouth, when a police car pulled up, followed by an SUV, followed by a man.
"Cowboy was in the front seat of the police car with Officers Lauren Prunty and Diana Bonilla. 'Are these two little white dogs yours?' they asked. 'YES,YES, YES!,' I said.
Trump had come home on his own, as the man who'd arrived with police had been trying to catch him. Fowler said she couldn't stop hugging the dogs.
"I could not figure out how the boys escaped as my back yard is a fortress and my front door is double bolted," she said. "Then one of the officers noticed one of the tiny panes in a living room window at floor level had been pushed out by one of the dogs.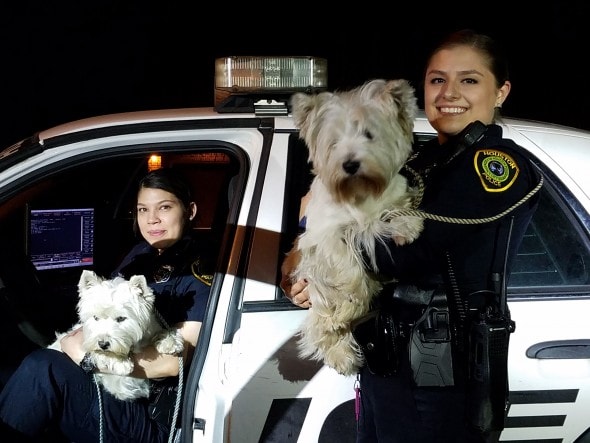 ———————————————————————————————————————————————————-
Both her babies had gone to the end of the street and were running back and forth across a busy, four-lane city street when Officers Prunty and Bonilla spotted them. Their presence had, luckily, slowed traffic to a crawl.
"The officers were able to get Cowboy into the police car," Fowler said, and when the motorcade followed Trump, he led everyone back home.
"I get the shivers when I think of all that could have gone wrong," Fowlers said, offering bucket loads of thanks to the officers who helped.
"No one had to stop, but they did, and what could have been one of the saddest moments of my life became one of the happiest."