A Labrador puppy is lucky to be alive after falling from a ferry into the Golfo di Napoli, where he swam for hours to stay alive.  Thankfully six sailors arrived in time to pluck him from the chilly water.
The boaters, members of the Reale Yacht Club Canottieri Savoia were stunned to see a three-month-old puppy swimming for his life far out from the coast.  They called out, hoping he would swim to them.
He might have been scared, but certainly knew a rescue when he saw one!  It took a couple of passes for the dog and boat to come near enough together without the current pushing the boat away, but once they got close enough, one of the sailors reached down and pulled the pup out.
A female passenger immediately cradled the dog and wiped some of the water from his fur.  Someone else draped a coat over him until they got to land.  The boaters continued to care for him by gently blow-drying him until he was warm and dry.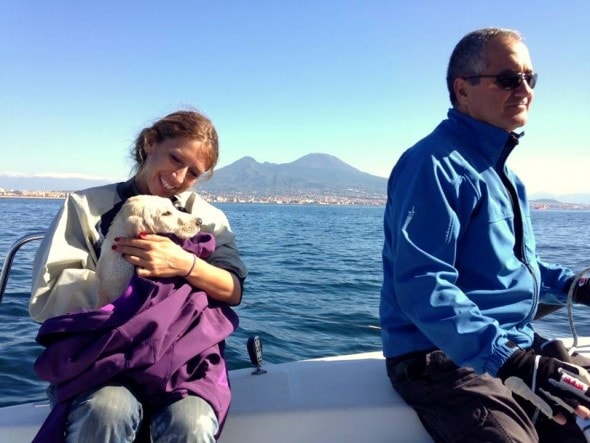 He was quickly reunited with owner Mario di Meglio, whose ferry had traveled 20 miles from where the pup was found.  Apparently the little guy, called "The Master of Noodles," slipped his collar, and jumped overboard.
The heartless ferry driver refused to stop or turn around once he plummeted into the water.  Crew members told the distraught owner that it was futile; his dog was already dead.  But at least Noodles was saved, and is now doing well.