Jalk Vom Haus Geisthund – a very big name for a very special dog.  This German shepherd was adopted as a puppy by the Valencis family in August of 2014.  Right from the beginning, he was a very valued member, especially beloved by the children.
He was a typical puppy; he loved to play, dig holes, and tear up toilet paper rolls like nobody's business.  The first year of his life was filled with the kind of joy that every dog should know.  But things were about to change.
In September of 2015, mom Angela was petting Jalk when she noticed a little lump on his head.  Believing it to be nothing serious, a vet put him on antibiotics, but the lump only grew.
Only a week later, it was discovered that the lump was a malignant tumor – stage 2 soft tissue sarcoma.  The family was crushed, but resolved to do whatever it took to keep him alive.
Jalk began treatment to remove the rapidly-growing tumor, which had quickly ballooned to the size of a baseball.  It was so large that it had taken over his entire ear canal.
After surgery and a stay in the hospital, radiation treatment began.  His family drove 140 miles from their Farmington, Connecticut home to his 20 appointments – over 5,000 miles altogether!  This would be like driving from Washington DC to Philadelphia and back 20 times in several weeks.
Jalk's treatment was successful.  Angela shared of photo of him, including a summary of what had happened, which quickly went viral.
In an interview with BuzzFeed, Angela said that the decision to put him through such an extensive course of treatment (which of course, he couldn't understand), was made only after thorough consideration and research.
"His eyesight was not affected at all, and he still hears the UPS and FedEx trucks coming down the street before I do," she explained. "He is truly our wonder pup, and in the center of the heart of our family, a beloved and adored member of our pack."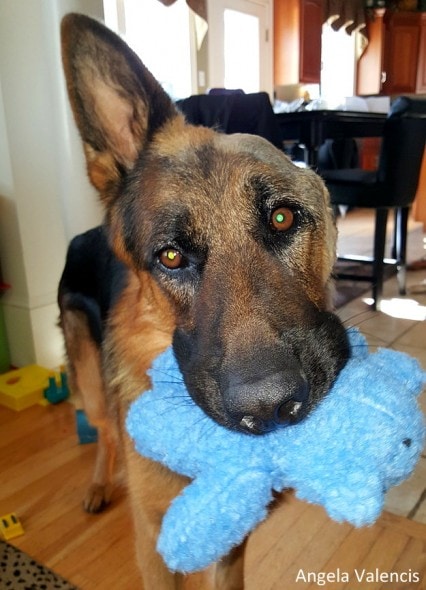 And hopefully now he will have many years of good health ahead of him!