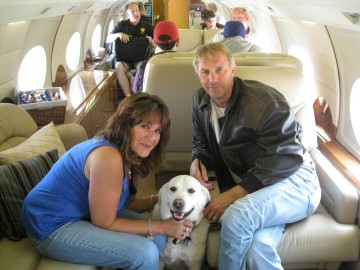 Academy Award winning director Kevin Costner and  Orange Dog founder Jan Folk have teamed up to save the lives of dogs from California, and give them a new chance at a peaceful existence. Kevin Costner said, "In its most simplistic form, that's what Orange Dog is about – it's about life…it's about second chances."
The actor has joined forces with The Orange Dog to help save shelter dogs in America. The organization has flown more than 300 dogs on a Freedom Flight from overcrowded shelters to Canada to be rescued by new owners. "We know that we're losing dogs at an astounding rate. In California alone, we know that 5,000 dogs a year are put down," he said.  "So bringing small dogs to Canada, finding owners who want them," is his mission.
In an interview with ET, Costner discusses working with Orange Dog. "I'm asked to do a lot of things," he said. "Why I've chosen to support Orange Dog, I can't really speak to it, other than it spoke to my heart," he said.