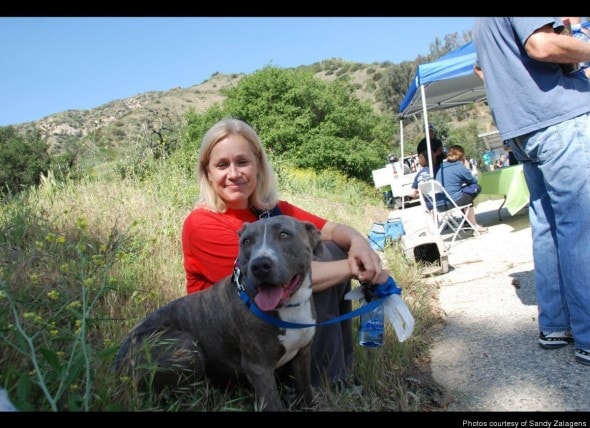 Sandy Zalagens', a Los Angeles realtor and landlord, will give you a discount on your rent – if you adopt a dog in need that is.
A sign advertising space in one of Zalagens' units stated, "Rent is $950; $150 a month discount if you adopt Big Louie."
Big Louie is an 80-pound gray brindle Pit Bull.
One lucky resident stepped up to the plate. Jessie McElwee is now happily living alongside her new companion, and a cat. Zalagens' stated that McElwee is her "dream tenant"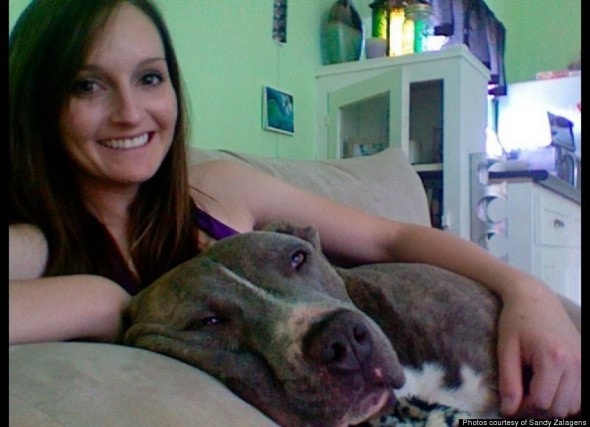 While the ad may have been questionable under fair housing laws, Zalagens isn't losing any sleep over it.
"Yeah, it probably wasn't legal and I did catch some flack," Zalagens said, "but dog-rescuing is important to me."
Zalagens rescued her first dog back in 1993, but began a regular campaign for rescue dogs seven years ago. Every time she sells a house, Zalagens sponsors a rescue dog. She has even rallied up support within her real estate office to do fundraising for races for rescues.
While real estate helps pay the bills, Zalagens real passion is finding homes for dogs who have been displaced. Over the past few years, she has been helping pets who have become homeless due to foreclosures.
Too often pets are left behind when their family loses their home and are forced to become renters. Zalagens states that this trend is largely due to landlords who don't allow pets in their units.
Animal shelters have confirmed this sad pattern, noting that their pet intake has increased due to the housing crisis. Landlords who do not allow pets have ultimately forced pet owners to give up their four-legged friends. Most times these pets are surrendered to shelters, however, in some cases pets are let loose in neighbourhoods and left to fend for themselves.
"Landlords who don't permit pets to move in are a huge part of the homeless pet problem," Zalagens said, "I just felt I had to do something to address that."
As a result, Big Louie became part of the rental deal.
Zalagens is currently working on compiling a list of pet-friendly landlords. It is her hope to get rid of the discrimination against animals that is prominent in the rental market.
"Dogs are my big why," Zalagens said.
Although Zalagens opens her arms to all breeds of dogs, she will admit that she has a soft spot for pit bulls.
"[Pit Bulls] are the underdog of today's dog world."
The misguided aggression claims commonly associated with the breed are a result of irresponsible owners and backyard breeders, Zalagens explains. In addition, some insurance companies have charged clients more for owning a Pit Bull.
Many Pit Bull owners, along with Zalagens, argue that Pit Bulls have a gentle nature to them.
Big Louie's story is unfortunately one that is all too common. He was left abandoned by his family to fend for himself. He was later picked up by Animal Control, before Zalagens had a chance to pick him up herself. She soon located him in a shelter and pleaded with Downtown Dog Rescue, a rescue group, to foster him until she find him a forever home.
Life has turned out very good for Big Louie who is quite content sharing the couch with his new kitty friend.
"He's just a big mush," Zalagens said.
"Big Louie happened to be a pitbull," she said, "but if he had been a little Yorkie, my ad would have said '$150 discount on rent if you adopt this cute Yorkie' and the apartment probably would have rented in a minute instead of two weeks."