Back in June we told you the story of a homeless man, Alfredo Longoria, and his best friend Lucky, a nine-year-old Mastiff mix diagnosed with bone cancer. These two best friends live on the streets of Los Angeles, and Cause4Paws has helped them ever since the organization's founder, Jasmin Dustin, met them.
Read "Luck Is Running Out for Homeless Man and his Dog Lucky" to learn more.
After visiting various veterinarians it was determined that nothing could be done for Lucky. It was just a matter of time for the dog to cross the Rainbow Bridge. In the meantime, Cause4Paws has helped Longoria look for a job and a place to live. During the summer they temporarily placed them in a motel, but unfortunately the funds ran out and Longoria and Lucky had to return to the streets.
Since June, the organization provides Lucky with pain medication and Longoria makes sure his beloved dog always has food and a comfortable place to rest. But now that Lucky has limited time left, Cause4Paws wants to grant the homeless man and his dog one last Christmas wish, and that is for them to enjoy their last days together off the streets.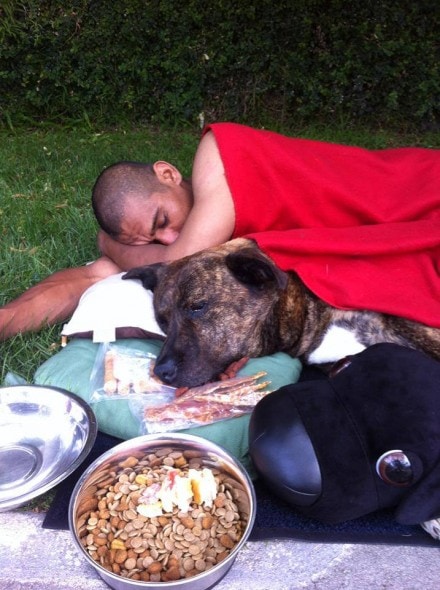 "Lucky's days are numbered…let's all come together to grant them their Christmas wish…to finally call somewhere HOME," says the You Caring Page Cause4Paws has created for them.
"Lucky's bone cancer has gotten so bad in his leg, that he's barely able to move. The vets say he has very little time left before running free," the message on the page continues.
Cause4Paws knows that once Lucky passes Longoria will be greatly affected, but this experience has given Longoria the will to better his life and he is determined to get off the streets. He just needs some help.
"[Longoria] is willing to work anywhere in the LA area," says Cause 4Paws. "A work trade for living space would be wonderful. He can do anything from painting, gardening, handy man work and anything in between."
The organization wishes to get Longoria and Lucky into a home where they can spend Lucky's last days together, but they will need furniture, blankets, pots and pans, and much more.
If you are interested in donating any of these items, you can contact them at [email protected]. You can also make an online donation via YouCaring.
The streets are no place for Lucky to die. Please help grant Lucky his last Christmas wish.